Continue receiving your Deutschlandstipendium!
Continued scholarship funding can be awarded until the end of the standard program duration; provided that co-financing by a private sponsor is guaranteed.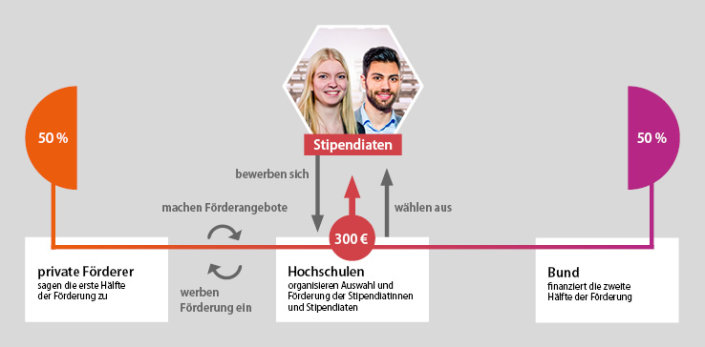 Application period
The application period is expected to start August 15, 2023 and last till September 05, 2023.
An additional requirement for continued scholarship is a successful academic year. In the course of the annual qualifying exam and performance review you need to meet the following criteria:
Your average grade awarded for the academic performance in the last year of funding is at least 2.3 (*according to the German grading system) or better
Compliance with the program schedule curriculum
Please submit the following documents:
Application form for continued scholarship
Current certificate of enrollment at TH Köln (for the upcoming winter semester) (Campusmanagementsystem (CaMS))
BAföG certificate (§ 9 BAföG) issued by TH Köln (Campusmanagementsystem (CaMS))(for the upcoming winter semester); here you will also find your correct standard period of study.
Current Transcript of Records (grades of the previous scholarship year (available in PSSO). If your current grade average is 2.4 or worse and/or if you do not adhere to the study plan (e.g. if you cannot proof that you have earned at least 30 credits each semester that you were enrolled (incl. courses for which you are registered to take an exam but have not yet taken it)) you are required to submit a written explanation. Your application cannot be considered without this explanation.
Create small files
Instructions on how to create small files and/or combine several files are available here (in German):
Please submit your application with the other documents only by e-mail (as one PDF file) only during the application period: deutschlandstipendium@th-koeln.de.
The application period for the continued scholarship is expected to start August 15, 2023 and last till September 05, 2023.
Please complete, print and sign your application. Then make a scan or a photo of the application and merge it with the other documents into one PDF file. Then email us the complete application with all documents (as one PDF file) from your university email account (smail.th-koeln.de).
Please note: It must be recognizable that the document carries a handwritten signature. It is not sufficent to electronically insert a scanned version of your signature into the document.
The scholarship generally ends with the successful completion of your current studies, i.e. also with the completion of your bachelor's degree.
A new application is required for renewed funding during the master's program.
Finished with your studies?
Stay in touch with us!
Alumni of the TH Köln
Take advantage of the opportunity to network with fellow students and professors beyond your studies.
We cordially invite you to become part of the growing community of our alumni.
This is what you can expect:
Regular newsletters from the faculties and institutes
Contact and personal advice from the TH Köln Alumni Team
Services offered by the university and its partners