DAAD Language Certificate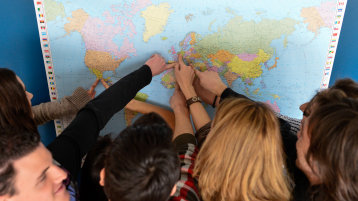 You would like to apply for a DAAD scholarship for a semester or internship abroad? Here you will find out how you can prove the required language skills.
Target group
Test procedure
Depending on the number of participants, the test takes between 60 and 90 minutes and comprises the following skills and competences listed in the DAAD Language Certificate:
Reading
Writing
Oral interaction
Important note: Some of the tests are currently being carried out digitally and therefore, the platform ILIAS and Zoom are being used. Please note that all participants must have their camera turned on during the zoom conference.
Dates and registration
Current test dates English
May 3, 2023, 09:45 am
- Campus Deutz
- Registration by email until Apr 19, 12 noon

Subject to change.
Current test dates Spanish
Apr 27, 2023, 11 am
- Campus Deutz
- Registration by email until Apr 13, 12 noon

Subject to change.
Further languages
- Dates upon request -
For your binding registration we require the following information:
Surname, name
Matriculation number
Course of study/Faculty
Semester
What is the language certificate required for?
In addition, we would ask you to submit a letter of motivation (approx. 300 words) in the target language. This letter should contain a detailed description of the purpose for which you need the language certificate and your motivation for going abroad in the context of your degree course. It should also include information about your language learning biography (languages you have already learned in the past; where, how and for how long you have learned these languages).
Please note that we cannot admit you to the test without the letter of motivation, as it helps us prepare the test, especially the part testing your oral interaction skills.
After your binding registration, you will receive a confirmation of registration with additional information.
After the test
The DAAD Language Certificate can be picked up, at the earliest, one day after the test at the SLZ Seminar management office. Depending on the number of participants, the processing time may take longer.
You will receive further information when you take the test.
Please note that this test has been specifically designed for the DAAD Language Certificate. You should, therefore, clarify in advance whether or not this certificate is sufficient for your purposes, as we cannot certify the test results in any other form.
Whether the test result can serve as a placement for any upcoming modules of the SLZ is to be determined individually by the language coordinator in charge.
The test cannot be repeated directly. You will have to wait at least three months before you can register again.