GJU Study Group Mobility 2022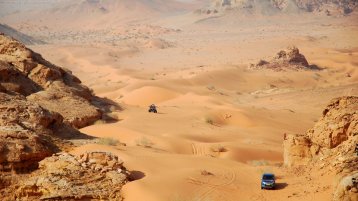 This year, the German Academic Exchange Service (DAAD) is providing financial support via the Magdeburg-Stendal University of Applied Sciences to study groups working on transnational final projects in the network of the German-Jordanian University (GJU) and its partner universities in Germany.
After the successful implementation of several Study Group Mobilities last year, the GJU would like to enable four groups to participate in this program again in 2022.
This year, the study groups are to be located in existing research clusters at the GJU or be ready to establish new clusters. The call for applications is also aimed at students who are working on their thesis or project. Groups that are related to applied science, innovation or entrepreneurship are preferred.
Further information on the procedure, the application and the conditions can be found on the GJU website and in the documents stored there.
How to apply?
If you have already formed a project group, found a partner and defined a topic, please fill out the application form and send it until February 28th, 2022 directly to: laura.schergaut@gju.edu.jo
If you are interested in applying, but are missing a German/Jordanian partner, please contact Laura Schergaut, we will try to find a suiting partner for you
The German Jordanian University is a state Jordanian university in Amman and Madaba. It is based on the model of the German University of Applied Sciences. The training is based on German curricula and is implemented with local teachers and to a small extent also with German guest professors. A unique selling point is the obligatory Germany year for all students. Approximately 4,700 students from over 30 nations are currently enrolled in almost 30 courses at the GJU. In 2018, more than 100 mostly German students took advantage of the opportunity for intercultural exchange and studied at the GJU for a semester or longer. TH Köln is a partner university of the GJU.
February 2022