Chemical and Environmental Analytics Core Facility
Funded by the German Research Foundation (DFG), the first research-supporting Core Facility of the TH Köln is being built at the new Leverkusen Campus.
The Chemical and Environmental Analytics Core Facility (ChEAF) bundles the instrumental analysis of low and higher molecular weight organics and expands it in a structured manner. The aim is to advance knowledge-oriented research in the fields of water and environmental analysis, drug discovery and bioeconomics.
The ChEAF will significantly support the research work of TH Köln scientists and its cooperation partners by offering modern analytical equipment and methods as well as the available expertise. In addition, the networking of researchers will be promoted and impulses for new approaches to knowledge-oriented research will be generated.
Nuclear Magnetic Resonance Spectroscopy (NMR)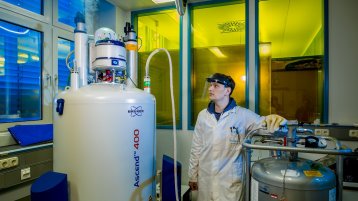 400 MHz ultra shield magnet
Equipped with a BBFO probe, selectively detects nuclei such as 1H, 13C, 19F and 31P
1D and 2D experiments, multi user access
Mass Spectrometry (LC/GC-MS)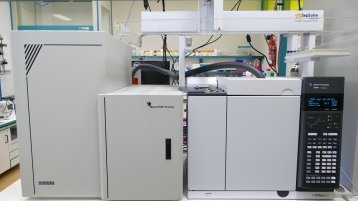 (Image: TH Köln)
Liquid chromatography coupled to mass spectrometry (LC-MS)
Gas chromatography coupled to mass spectrometry (GC-MS)
High resolution mass spectrometry (LC-HRMS)
Liquid and Gas Chromatography (LC, GC)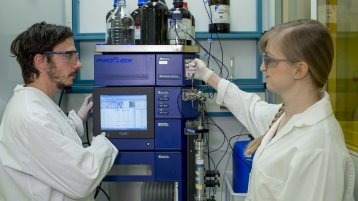 (Image: TH Köln/Thilo Schmülgen)
Chromatography systems with several detection techniques
Gas chromatography GC-FI (flame ionization detector)
High pressure liquid chromatography (u)HPLC-FL (fluorescence detector), UV-VIS/DAD (dioden array detector), ELSD (evaporative light scattering detector)
Infrared Spectroscopy (FT-IR)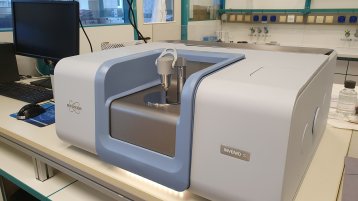 (Image: TH Köln)
Transmission IR spectroscopy
Attenuated total reflection (ATR) IR spectroscopy