Pharmaceutical Chemistry (Bachelor's program)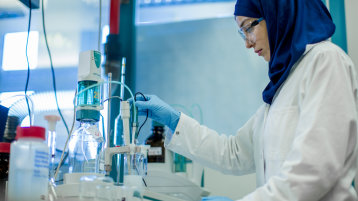 The Bachelor's program in Pharmaceutical Chemistry leads to the academic degree Bachelor of Science which qualifies graduates for professional employment along the value chain of the "development and manufacturing of pharmaceutical products".
The program is practice-oriented with a strong interdisciplinary focus. Through working on scientific problems in laboratory courses as well as on individual research projects with strong practical relevance, students learn to develop innovative solutions in the fields of drug substance and drug product development. In addition to the primarily scientific focus, the program also includes technical, regulatory and business aspects. Students learn to work scientifically on complex problems using a wide range of methods. Throughout the program, students are trained to plan, process and evaluate complex subject specific tasks and problems and independently control processes in various areas of their scientific discipline or their future professional field of activity.
At a Glance
Category
Description
Program

Pharmaceutical Chemistry

Degree

Bachelor of Science (B.Sc.)

Type of program

Full-time program or training-integrated program

Beginning of program

Winter semester

Program duration
Full-time program:
6 semesters (without internship/semester abroad) or
7 semesters (with internship/semester abroad)

Training-integrated program:
8 semesters (without internship/semester abroad) or
9 semesters (with internship/semester abroad)
Credits
180 ECTS credits (without internship/semester abroad)
210 ECTS credits (with internship/semester abroad)
Language of instruction

German and English

Campus

Leverkusen Campus

Restricted admission
Full-time program: Yes
Training-integrated program: No
Additional Information

The training-integrated program offers the possibility to combine the Bachelor's program with vocational training (e.g. pharmaceutical production technician, chemistry laboratory technician and related professions in the fields of natural science and chemistry).

Accreditation

Internal accreditation based on institutional accreditation standards, until Sep 30, 2026