Multilingual Communication (Bachelor's program)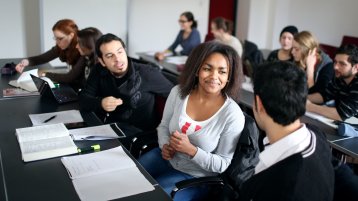 The Bachelor's program in Multilingual Communication is offered by the Institute of Translation and Multilingual Communication (Faculty 03). In addition to two modern languages (English, French and Spanish are offered), students take courses in German and acquire a solid foundation in translation and communication studies, linguistics and cultural science.
After three semesters, students choose one of the following specializations: 'Translating and Interpreting', 'Culture and Media' or 'Business Studies'.
The six-semester program includes a mandatory semester abroad.
Further information on the Bachelor's program in Multilingual Communication is available in German: Mehrsprachige Kommunikation (Bachelor),
At a Glance
| Category | Description |
| --- | --- |
| Program | Multilingual Communication |
| Degree | Bachelor of Arts (B.A.) |
| Type of program | Full-time program |
| Beginning of program | Winter semester |
| Program duration | 6 semesters |
| Credits | 180 ECTS credits |
| Language of instruction | German |
| Campus | Südstadt Campus |
| Restricted admission | Yes |
| Mandatory foreign languages | English, French or Spanish |
| Accreditation | program accredited until Sep 30, 2024 |