Market-Oriented Management (Master's program)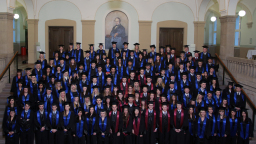 Students will develop the professional skills and methods to apply theory to the real business world. They work on their team skills and jointly achieve goals; they learn to deal with intercultural differences and explore the complex connections between economics, ethics, business world and society.
Market-Oriented Managemen (Master's program) is a German program, offering some electives in English. Applicants whose higher education entrance qualification was not obtained at a German speaking institution are required to provide proof of their German language proficiency, for example with the "Deutsche Sprachprüfung für den Hochschulzugang" (DSH 2).
Please refer to Marktorientierte Unternehmensführung (Master) [in German] for additional information.
At a Glance
| Category | Description |
| --- | --- |
| Program | Market-Oriented Management |
| Degree | Master of Science (M.Sc.) |
| Type of program | Full-time program |
| Beginning of program | Winter and summer semester |
| Program duration | 4 semesters |
| Credits | 120 ECTS credits |
| Language of instruction | German |
| Campus | Südstadt Campus |
| Restricted admission | Yes |
| Accreditation | internal accreditation based on system accredited standards, until Sep 30, 2022 |