Library Studies and Digital Communication – Contents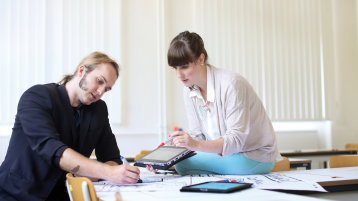 The Bachelor's Degree in Library Studies and Digital Communication enables graduates to perform library activities independently both within and outside of the library sector. This involves activities performed at libraries, information facilities and archives as well as library service centres in the municipal, state and private sectors.
Qualification Objectives
The course provides interdisciplinary qualifications for working at public libraries, scientific libraries and special libraries, such as company libraries for example, as well as other information facilities.
In complement to the primarily practical professional training, the Bachelor's Degree in Library Science also provides context knowledge that goes beyond instrumental knowledge and fosters the ability to innovate. This enables graduates to manage smaller facilities or to lead smaller function units or teams within larger facilities.
Graduates of the Bachelor's Degree course are able to fulfil difficult and complex library functions; thanks to their contextual knowledge, they have the ability to contribute to the development of strategic concepts and to implement these in practice. This ability to innovate is a prerequisite for libraries in their role as learning institutions that actively help to shape the extraordinarily dynamic development of the information landscape.
Professional Core Competences
Customer-oriented development and mediation of information resources
Long-term storage and provision of media and information
Application-oriented information retrieval
Development, design and evaluation of user-oriented information services
Management of smaller information facilities or individual function areas within larger facilities
Appropriate use of information technologies in libraries
Handling all media forms, from print media to digital online publications
These competences (as opposed to simple skills) can only can be acquired, if a knowledge of the library and information sector both historically and in the present is imparted and the full spectrum of fields of activity within the national and international context is presented.
Key Competences
The individual's inter-personal skills should be strengthened and encouraged. This is achieved in particular by teaching the techniques of scientific work that, among other things, are of particular relevance to individual students when preparing seminar work, homework or bachelor's theses. Students are also encouraged to engage independently and critically with specific subjects. In this way, their judgement, critical abilities and problem-solving competences are developed and strengthened.
Interpersonal skills, i.e. social skills within a group, should be trained and further developed. These especially include the interrelated components of communication skills, cooperative skills and the ability to work as part of a team. This is ensured in particular through the following forms of teaching:
Tutorials and seminars – with significantly greater communicative and interactive requirements (in comparison with the lectures);
Project work – within this context, cooperative skills and the ability to work as part of a team are acquired, trained and proven through joint results. In addition to this, conflict-handling skills are also trained, i.e. the ability to exchange and represent objective and professionally reasoned standpoints;
Laboratory work – which, in addition to the exemplary learning of operative skills, requires mutual support, assistance and the sharing of expert knowledge in particular.
Furthermore, communication skills should be learned and trained not only within groups, but also in regard to third parties. These forms of communicative skills are particularly useful for presentations and lectures within the context of presenting the results of seminar work or project work, for example.
Special Profile Features: Practical Approach
The profile of the course of studies has been developed by the institute itself. Suggestions from practice have been taken into consideration, thanks to the many contacts between the teaching staff and libraries as well as other relevant facilities. Practice-oriented projects are planned, which are primarily to be realised independently by the students under their own responsibility and will in many cases be initiated and implemented in close contact with external practice partners.
The 20-week practical experience phase in the fifth semester allows students to become familiar with the differentiated tasks and fields of operations in library practice. Within the context of the practical phase, it is also ensured that the projects to be realised can create added value for on-site practice (University of Applied Sciences Practice Transfer).
In general, throughout the course of studies, increasing emphasis is placed on transferring the acquired theoretical knowledge in practical environments, thereby making these tangible, examinable and transparent. That is done, for example, through the high proportion of laboratory work, during which database environments are independently constructed, library software is used and research and information situations are simulated and understood.
Emphasis will also be placed on the transfer of theoretical knowledge in the development of practical solutions to problems through practical exercises and smaller project-oriented tasks (analysis of questionnaires, comparison of practical concepts with regard to certain questions). In this context, the required methodological tools are acquired both explicitly and implicitly.
In particular,the Bachelor's Degree course provides graduates with the ability to recognise the need for innovation and to develop and implement the corresponding strategic concepts for modernization.
University Degree after Successful Completion