International Business (Master's program) – Program Content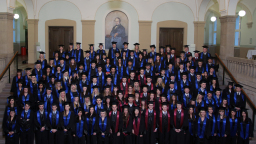 The four-semester Master's program in International Business (Master of Arts) includes a mandatory semester abroad. With the language of instruction being English, students have plenty of opportunity to practice their language skills.
Program structure
During the first year, students focus on expanding their previously gained skills and knowledge. Classes include Operative and Strategic International Marketing, Global Strategy, International Business Development, International Risk Management, Global Business Logistics, Quantitative Methods, Cross Cultural Management and Global Economics. Additionally, students choose two of the following electives according to their personal interest: International Human Resource Management, International Business Law or Knowledge Management.
At the beginning of their second year, students spend a semester abroad. During this semester they are expected to earn 30 ECTS (credits). The fourth and last semester of the program is dedicated to a multidisciplinary research project as well as the Master's thesis.
We strongly recommend that students follow this schedule. Otherwise, it may not be possible to complete the program as planned, as some classes are only offered once a year.
International experience
Students spend their third semester at a university abroad. While many opt for one of our numerous partner universities, they may also choose a different university that better suits their personal interests and needs.
While abroad, students are expected to take classes worth 30 ECTS (credits). They are required to complete at least one course from each of the following fields: finance, accounting, business ethics and human resource management. On top of that, they may choose courses from the fields of regional studies, emerging markets, economic geography or international politics. The program coordinator suppports students in assembling their individual schedule.
Master's thesis
In their fourth semester, students work on their Master's thesis, ideally in cooperation with a company or institution. We encourage students to choose an interdisciplinary topic that is relevant to current business issues. The possibilities here are numerous - which topic tickles your interest?
Your Master's thesis is the perfect opportunity to show what you have learned over the past two years.