Digital Narratives (Master's program)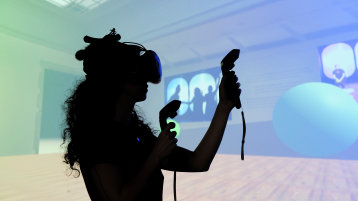 Our society is intertwined with the digital – especially in the storytelling, production techniques, and formats we use to tell stories. In the Master's Programme Digital Narratives, media and culture creators gain the necessary theoretical and practical tools to critically engage and experiment with digital media, with a special focus on immersive technologies.
A research-creation approach supports them in developing a professional career in a field characterised by ongoing transformations due to rapid technological developments.
The programme's goal is the training of creative storytellers who master the narrative formats and production techniques of new digital media and experiment with them to develop innovative media formats. The programme combines academic and practical work and teaches students to question the affordances and limitations of digital technologies while engaging with current social issues and developing their own artistic and academic practices.
Key areas:
Conceptualisation, dramaturgy, design, and production of digital narrative projects (e.g. XR, web series, AI-powered experiences, apps, locative media, interactive graphic novels, immersive installations – to name a few)
Immersive technologies
Creative development and agile production structures and methods
Experimenting and iterating as a way of learning
Research-creation
Theoretical debates and critical discourses in media studies and cultural studies
Critical analysis around the ethical, economic, social equity, gender and diversity, and ecological ramifications of digitisation
Social debates and responsibilities of creators
During the programme and as part of their MA thesis, students develop a master's project with an allocated budget.
The Master's Programme also prepares students for a practice- or art-oriented doctoral studies programme.
At a Glance
Category
Description
Program

Digital Narratives

Degree

Master of Arts (M.A.)

Type of program

Full-time program

Beginning of program

Winter semester (every other year)

Program duration

4 semesters

Credits

120 ECTS credits

Language of instruction

English

Campus

ifs Köln (Mülheim site)

Restricted admission

No

Application

Please visit the ifs website for information on the application process.

More