Computer Science (Bachelor's program)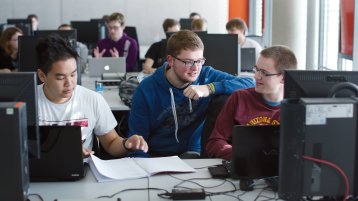 The Bachelor's program in Computer Science provides students with broad fundamental knowledge of the complex field of computer science. Computer scientists usually work as a team to solve the various complex problems that arise in companies and institutions.
Thus, information, human language and communication are just as important for computer scientists as mathematics, formal languages and algorithms.
Further information on the Bachelor's program in Computer Science is available in German: Informatik (Bachelor).
At a Glance
Category
Description
Program

Computer Science

Degree

Bachelor of Science (B.Sc.)

Type of program

Full-time or part-time (flexible program)

Beginning of program

Winter semester

Program duration
Full-time program:
6 semesters
7 semesters with internship

Flexible program:
8 semesters
9 semesters with internship semester
Credits
180 ECTS credits
210 ECTS credits with internship
Language of instruction

German

Campus

Gummersbach Campus

Restricted admission

No

Additional information
Flexible program:
Please note that students enrolled in flexible/part-time programs do not qualify to receive funding in accordance with the federal training assistance act (BAföG).