Business Information Systems (Bachelor's program / Joint degree program)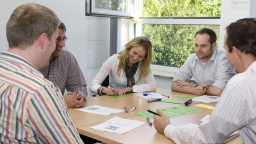 The joint degree program does not only link professional employment with academic studies but also combines distance learning with face-to-face classes, as students attend on-site classes in Gummersbach every two weeks.
This opportunity to meet their lecturers and fellow students significantly improves the students' academic success. In between, students study at home using paper-based as well as e-learning course materials.
Further information on the Bachelor's program in Business Information Systems is available in German: Wirtschaftsinformatik (Bachelor, Verbundstudiengang)
At a Glance
| Category | Description |
| --- | --- |
| Program | Business Information Systems |
| Degree | Bachelor of Science (B.Sc.) |
| Type of program | Program parallel to professional employment |
| Beginning of program | Winter semester |
| Program duration | 9 semesters |
| Credits | 180 ECTS credits |
| Language of instruction | German |
| Campus | Gummersbach Campus |
| Restricted admission | Yes |
| Please note | This program is offered in cooperation with Dortmund University of Applied Sciences and Arts. |