Architecture (Bachelor's program)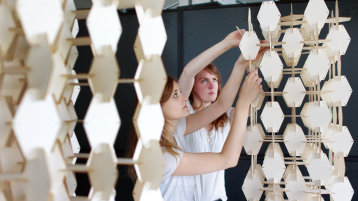 The act of building a house is one of the oldest cultural techniques known to mankind and still used today. Architecture is what one would call an 'essential good', a product of human culture, a means to survive.
The 6-semester Bachelor's program - the first stage of architectural training - is a comprehensive first-cycle program. With its intentionally challenging study plan, this program introduces students to the fundamentals of architecure.
Further information on the Bachelor's program in Architecture is available in German: Architektur (Bachelor).
At a Glance
| Category | Description |
| --- | --- |
| Program | Architecture |
| Degree | Bachelor of Arts (B.A.) |
| Type of program | Full-time program |
| Beginning of program | Winter semester |
| Program duration | 6 semesters |
| Credits | 180 ECTS credits |
| Language of instruction | German |
| Campus | Deutz Campus |
| Restricted admission | Yes |
| Accreditation | internal accreditation based on system accredited standards, until Sep 30, 2025 |