Architecture (Bachelor's program)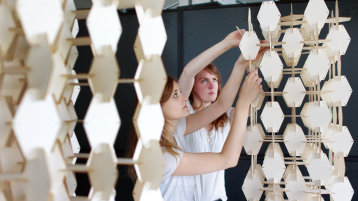 The act of building a house is one of the oldest cultural techniques known to mankind and still used today. Architecture is what one would call an 'essential good', a product of human culture, a means to survive.
The Bachelor's program teaches the essential skills and knowledge that architects require to fulfill their complex task. Graduates who wish to build on the knowledge they acquired during the undergraduate program may enroll in one of specialized Master's programs offered at the Faculty of Architecture.
Further information on the Bachelor's program in Architecture is available in German: Architektur (Bachelor).
At a Glance
| Category | Description |
| --- | --- |
| Program | Architecture |
| Degree | Bachelor of Arts (B.A.) |
| Type of program | Full-time program |
| Beginning of program | Winter semester |
| Program duration | 6 semesters |
| Credits | 180 ECTS credits |
| Language of instruction | German |
| Campus | Deutz Campus |
| Restricted admission | Yes |
| Accreditation | internal accreditation based on system accredited standards, until Sep 30, 2025 |