Applied Chemistry (Master's program)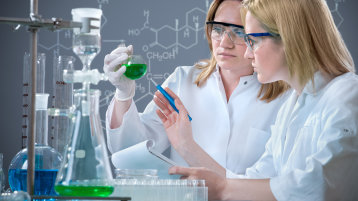 If you want to excel in chemistry, you need more than the required know-how. You have to be able to trust your personal and methodological competence along with the ability to focus on projects and processes.
In the Master's program in Applied Chemistry, you learn to develop and strengthen necessary competencies which prepare you for independent work in the fields of chemistry research, chemical development and production.
You acquire professional skills, particularly within the following areas of expertise: Modern Chemical Technologies, Green Chemistry and Materials Chemistry. Additionally, you will gain necessary key competencies in practice-oriented learning scenarios. These allow you to develop new concepts, methods, compounds and materials as well as prototypes and products on lab-scale, plant-scale or production-scale, even in unfamiliar situations.
Further information on the Master's program in Applied Chemistry is available in German: Angewandte Chemie (Master)
At a Glance
| Category | Description |
| --- | --- |
| Program | Applied Chemistry |
| Degree | Master of Science (M.Sc.) |
| Type of program | Full-time program |
| Beginning of program | Summer and winter semester |
| Program duration | 3 semesters |
| Credits | 90 ECTS credits |
| Language of instruction | German and English |
| Campus | Leverkusen Campus |
| Restricted admission | No |
| Accreditation | internal accreditation based on system accredited standards, until Sep 30, 2027 |