Applied Chemistry (Bachelor's program)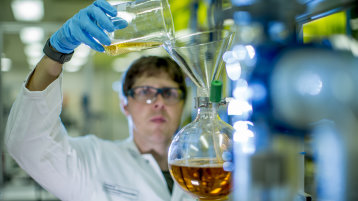 The Bachelor's program in Applied Chemistry, with its main fields of activity: materials chemistry, sustainable chemistry and technical chemistry, leads to a first professionally qualifying university degree, which enables students to start a professional career in the chemical industry and related sectors as well as in academia.
The degree program is therefore both practice-oriented and highly interdisciplinary. Students complete practical trainings in laboratory courses and continuously work on job-oriented problems, in which scope, complexity and research-oriented learning scenarios increase throughout the curriculum. In this way they develop competences in planning, practical processing and scientific evaluation of complex chemical-technical tasks and problems as well as the autonomous control of processes for the change of substances and materials in the various areas of their future occupational field of activity.
Further information on the Bachelor's program in Applied Chemistry is available in German: Angewandte Chemie (Bachelor)
At a Glance
Category
Description
Program

Applied Chemistry

Degree

Bachelor of Science (B.Sc.)

Type of program

Full-time program or training-integrated program

Beginning of program

Winter semester

Program duration
Full-time program:
6 semesters (without internship/semester abroad)
7 semesters (with internship/semester abroad)

Training-integrated program:
8 semesters (without internship/semester abroad)
9 semesters (with internship/semester abroad)
Credits

180 ECTS credits (without internship/semester abroad), 210 ECTS credits (with internship/semester abroad)

Language of instruction

German

Campus

Leverkusen Campus

Restricted admission

No

Accreditation

Program accreditation until Sep 30, 2024