Cooperation
TH Köln's approach to knowledge transfer is to increase cooperation with different companies and institutions. As a gateway to science, TH Köln - University of Applied Sciences not only competently and reliably supports companies and institutions in finding qualified scientists in the field of research and development, but it also offers consultation and other services or helps with carrying out innovative projects. Additionally, TH Köln is a good choice in the area of further education and the recruitment of professionals.
TH Köln – your access to science
For more information on this topic, please click on the link below:
An ounce of practice is worth a ton of theory!
Many years of practical experience and a renowned professional career outside of the academic sphere are prerequisites for being appointed as professor at TH Köln.
Take advantage of our broad expertise!
As the largest University of Applied Sciences in Germany, we cover a wide range of disciplines. Hence, the scientists contribute their expertise to an abundance of research-oriented issues.
We form competent minds. Safeguard professionals for a successful future of yours!
Every year, TH Köln says farewell to more than 3000 young graduates, who have completed their practice-oriented studies. Many of whom also completed their final thesis in collaboration with a company or institution.
We always invest our time in good networking. Benefit from our contacts!
We are well connected with companies, start-up centres and research institutes in the economic and scientific area of Cologne and the region around. As a result, we are able to assist you with finding further cooperation partners for joint research projects.
We are experienced and reliable!
We call ourselves experts in administrative support and in reliable as well as efficient realization of research projects. This is testified by more than 100 innovative solutions developed every year in close cooperation with companies and institutions. You would like to learn more? Please feel free to contact us!
Offer of Cooperation
TH Köln offers companies and institutions a variety of opportunities for cooperation: Projects in the field of research and development, lectures, in-house workshops, scientific training, promotion of young researchers.
Do you have a technical issue? We will be pleased to help you further.
Example: A technical manager of a medium-sized company that develops and manufactures lenses and optical systems for the photographic industry does some internet questing for specific information on aberrations. He finds the reference to a lecture at TH Köln on this topic. He thereafter calls the department of Research and Knowledge Transfer, which gets in touch with the lecturer. A two-hour presentation at the company in front of the interested employees as well as a small workshop in which the lecturer answers the questions of the participants will be arranged.

Would you like to review or improve a process or service? Perhaps you would also like to make a product innovation marked-ready? We cooperate with you in a small project.
Example: A medium-sized company has developed specially shaped metal discs that protect screw connections in slots against unwanted loosening. It now wants to demonstrate experimentally, for example, with vibration tests and computer simulations, that this protection works as desired. Because of a lack of know-how and equipment, it turns to TH Köln. A professor with industrial experience in this field will then undertake the task. The company applies for an "innovation voucher" with which the Ministry of Innovation, Science and Research of the State of North Rhine-Westphalia supports research and development activities aimed at developing innovative products, manufacturing processes and services to marketability.

You would like to develop an innovative service or product? We support and cooperate with you on a long-term basis.
Example: An art auction house wants to prove the authenticity of the auctioned paintings even better than before and at the same time competently answer customers' questions about the performance of technological investigation methods. It gets in touch with TH Köln renowned experts who develop and use such methods. Contractually, a cooperation agreement is agreed, from which both sides benefit: The art auction house acquires an X-ray fluorescence analysis device for the university and finances a restorer and a natural scientist. The University's experts are available to examine paintings in a variety of ways using state-of-the-art methods and to answer customers' questions.

You would like to train your employees or yourself in order to reach the current state of professional expertise at university level? We have many offers.
Example: A municipal association has set up a working group to study the consequences of Germany's recognition of the UN Convention on the Rights of Persons with Disabilities. First, the team wants to learn about this multifaceted topic as efficiently as possible. Therefore, an executive participates in the continuing education "Strategies for Inclusion", which is offered by the "Academy of Continuing Education" (German: Akademie für wissenschaftliche Weiterbildung) of TH Köln and is carried out in cooperation with the faculties of Applied Social Sciences, Cultural Sciences, Architecture and Civil Engineering.

Do you want to recruit new, highly skilled and motivated employees? We will be happy to advise you on how to address our students effectively.
Examples of further options: You can support talented students with 150 euros per month – the federal government will then increase the amount to 300 euros (Germany Scholarship). Or you can place a job vacancy at the Career Service for Students of TH Köln in order to get to know interesting personalities you can hire later – after completing their studies. You also have the opportunity to present yourself at the university as part of the company fair "Meet". Finally, you can also arrange a research and development project with TH Köln, in which a student draws up a project work. Together with a professor, your company or institution will then supervise the student.
Contact
Cooperation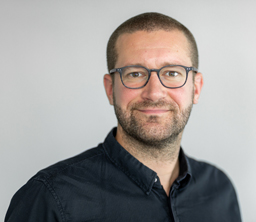 Jonas Stolz

Hochschulreferat Forschung und Wissenstransfer

+49 221-8275-3515