Partner Universities of the Month (November 2020)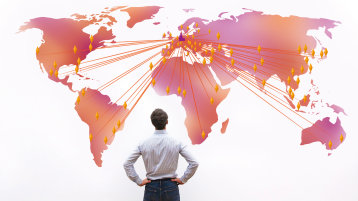 Beginning of the year: time for something new! We would like to start this year with a new section – the partner universities of the month. Every month, the Department of International Affairs will present one European and one non-European partner university. By presenting, we would like to inform you about the many possibilities you have when going abroad during your studies.
Let us inspire you and follow us!
This month we will stop by our neighbor, the Warsaw University of Technology in Poland and into the land of yogis at the Vel Tech Rangarajan Dr Sagunthala R&D Institute of Science and Technology in Chennai, India.
The unknown neighbor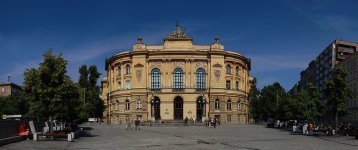 Shopping in Paris, partying in Amsterdam, cheese tasting in the Swiss Alps, sailing in Denmark or skiing in Austria. We visit our neighboring countries often and we actually know them very well, at least that's one would think. East of Germany, on the other hand, people suddenly no longer travel across the border for weekend trips. However, there is also a lot to discover here. Let's knock on the imaginary door together and see what's behind.
This month we are visiting Poland, our neighbor in the east, more precisely its parlor and capital Warsaw. Right in the center of the city we find our partner university of the month of November, the Warsaw University of Technology (Politechnika Warszawska). Since 1826, everything at this public university revolves around research in modern technologies. It is thanks to this history filled with tradition that TU Warsaw is now not only the most renowned technical university, but also one of the largest universities in the country with around 30,000 students in 19 faculties.
Students of TH Köln in the fields of automotive engineering, production, logistics and electrical engineering have the opportunity to discover the TU and the whole city as part of an Erasmus semester. Sport and culture are an integral part of student life at TU Warsaw. The students represent their alma mater in several university teams in disciplines such as swimming or basketball. However, there are also numerous organizations and communities at the university beyond athletics. A student radio and an internet TV station were also set up by students and are supported by the TU. In order to get in contact with the locals, knowledge of the Polish language is of course essential. Fortunately, there are suitable language courses at TU Warsaw! For complete beginners, intensive courses are offered before the start of the semester. If you feel overwhelmed with Polish, you can also attend lectures in English.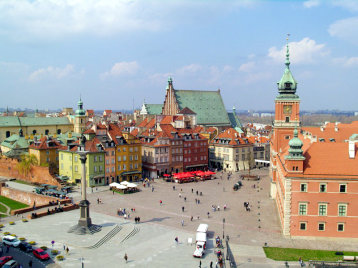 (Image: Lee Kindness / Wikimedia Commons)
In a big city like Warsaw, most of the younger people will be able to understand English without any problems. If not, you could try German, which is the most common second language in Poland after English. After all, Warsaw is one of the most international cities in Poland for a reason. With almost two million inhabitants, the capital is not only the cultural and political center of the country; it is also an important transport, economic and trade center. On the one hand, of course, this means a diverse range of cultural and leisure activities, on the other hand, rents in the city are not exactly cheap as a result. Fortunately, there are numerous student dormitories for little money. Unlike in Germany, however, it is common to share the room itself with 1-2 roommates, the kitchen and bathroom are in the hallway. The dormitories also feature group and workrooms, as well as some more luxurious extras, such as a fitness room or a swimming pool.
If you leave your dorm room, you can discover one of Europe's most architecturally beautiful cities. Warsaw's old town is a registered UNESCO World Heritage Site for a reason. Numerous restaurants and cafés have established themselves in the small houses around the market square. You should definitely try some snacks here, such as Zapiekanka, a classic student takeaway meal that is often treated similarly to kebab and always tastes amazing when partying. Zapiekanka is a baguette that is traditionally topped with mushrooms - but of course there are also numerous other variations. Centuries of interesting and eventful history lie dormant in the city and can be untangled in the excellent and numerous museums. Nevertheless, history can also come to life outside the museums. The Royal Route of Warsaw, for example, combines several interesting sights on one axis; you just have to walk straight ahead. Łazienki park and its castle of the same name are directly adjacent to the Royal Route. And that's just one of the many lavishly landscaped green spaces. The Palace of Culture and Science will provide an excellent location for a diverse evening program. What at first sounds like a boring conference building is actually a huge complex in the center that houses cinemas, restaurants, cafés, theaters and even a viewing terrace.
You see: There is absolutely no reason not to visit to our friendly neighbor. Extensively and repeatedly, that is. And who knows, maybe you will really get to know one another after a glass of Polish vodka. Or two.
At a Glance
Name of University
Erasmus-Code
PL WARSAW 02
Year of Foundation
1826
Type
public
Number of Students
30,000
Cooperation since
1987
Tuition Fee
not applicable within the Erasmus+ program
Application Deadlines

March 15, 2021 for the winter semester 2021/22

September 15, 2021 for the summer semester 2022

Courses taught in English
A salute to the sun in the winter semester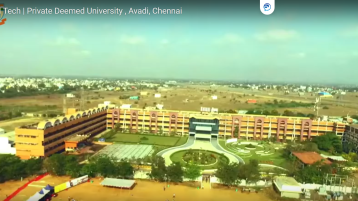 (Image: Youtube Video by Vel Tech)
With the Corona restrictions of the last few months, most of us were not only limited to studying and working within our own four walls. Suddenly, even sports and exercise had to take place in front of the couch at home as a change from the monotonous combination of screen, headset and keyboard. Some people have therefore turned to new workout and training methods and have unexpectedly become yogis. With exactly these people, but of course with everyone else as well, we want to travel to the country of origin of this - in Germany rather new - practice: India.
Our non-European partner university of the month is Vel Tech Rangarajan Dr. Sagunthala R&D Institute of Science and Technology, or Vel Tech for short, in Chennai, India. This private university was founded in 1997 and today educates over 3,000 students in a wide variety of fields. Students of the Faculty of Automotive Systems and Production at TH Köln have the opportunity to gather new experiences abroad off the beaten path. Vel Tech teaches according to the CDIO approach. According to this teaching principle, the four steps to a solution for a given topic are conception, design, implementation and operation. The approach uses active learning tools such as group projects and problem-based learning to better equip students with technical knowledge, communication and professional skills.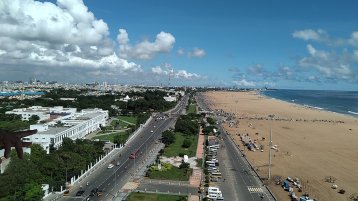 (Image: SlowPhoton / gemeinfrei auf Wikimedia Commons)
Vel Tech's Campus is located outside the city of Chennai in the federal state of Tamil Nadu. There's a lot going on here on campus. Exchange students are provided with, by Cologne standards, cheap accommodation directly on campus. There is also a student cafeteria that serves every meal, as well as access to amenities such as common rooms, fitness gyms, volleyball courts and much more. On campus, there are student culture associations who organize events every now and then. While cricket is actually the most popular sport in India, Vel Tech also offers teams and competitions in sports such as volleyball or chess, but also in kabaddi, a wild mixture of the children's game "Great Wall of China" and rugby - only without a ball - that is very popular in South Asia.
Speaking of sports: One of the most famous routines in yoga is the sun salutation. Nobody who has already toured the country wonders why people in India salute the sun. In Chennai, the average annual temperature is 28° C. Even the coldest month here is as hot as Germany in summer. That doesn't always make trips in the metropolis of Chennai with its more than 6 million inhabitants easy, especially since the campus is a good 90 minutes bus ride from the city center, but nonetheless worthwhile, even if only for occasional day trips. There is a lot to see in the city, which was called Madras at the time of British colonialism; a name that is still used today here and there. For example, there is the 13 km long sandy beach Marina Beach. Locals even claim it is the second largest sandy beach in the world! Another superlative: One of the largest zoos in the world is located here, the Arignar Anna Zoological Park. Culture lovers will find the heart of the Kollywood filmmaking scene in Chennai. Kollywood movies are movies in the South Asian language Tamil. Those who do not have a perfect command of this exotic language will also be pleased to hear that English-language theater performances are by no means uncommon. Of course you can also relax your mind in the numerous, colorful temples of the city. The well-known Indian cuisine takes care of the physical well-being. Street food dishes such as dosai, a kind of pancake made from rice and bean flour, or vadai, fried balls made from native beans, may be less well known. But watch out: Tamil cuisine is considered particularly spicy and may therefore be just the thing for the cold German winter.
India is a completely extraordinary experience and a hardly known culture in Germany. We think it's time to change that. Everyone who has just read this article in a Down Dog position and of course everyone who just had to google this reference are called upon to build cultural bridges into this diverse country and to take part in one of the most exotic exchanges of TH Köln!
At a Glance
Name of University
Vel Tech University
Year of Foundation
1997
Type
private
Number of Students
3,000

Cooperation since

2016

Times University Rankings

2017, categorie "Young University": #74

2017, categorie "Asia Universities": #43

Tuition Fee

not applicable with student exchange with TH Köln

Application Deadlines

Exchange places of the Department of International Affairs:

February 14, 2021 for the summer semester 2021

September 15, 2021 for the winter semester 2021/22
November 2020