Partner Universities of the Month (March 2020)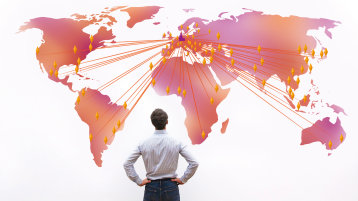 Beginning of the year: time for something new! We would like to start this year with a new section – the partner universities of the month. Every month, the Department of International Affairs will present one European and one non-European partner university. By presenting, we would like to inform you about the many possibilities you have when going abroad during your studies.
This month we present Blekinge Institute of Technology in Sweden and the Californian State University Stanislaus in the United States of America.
Studying and Living in Sweden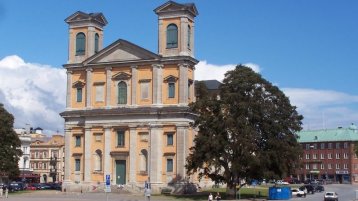 When you think of Sweden, you inevitably think of Pippi Longstocking, blond inhabitants, socialist welfare state and endless forests. You might even think of Köttbullar from the canteen of a world-famous Swedish furniture store, which is now in Dutch hands and has its headquarters in Delft. Today, in the 21st century, Sweden is an industrialized country with a relatively high proportion of large companies. Energy system transformation and climate protection goals for 2040 are to ensure that the country's energy supply is based 100% on renewable energies. Furthermore, in 2019 almost 20% of the country's 10 million inhabitants were born abroad rather than in Sweden [Statistics Sweden 2020]. German citizens are among the top 10 of the largest foreign population groups. Germany is the most important trading partner for both imports and exports. And did you know that all master programs in Sweden are taught in English? Most of the research and development takes place in the transport, electrical engineering and pharmaceutical industries of Sweden.
If we don't look at modern Sweden and focus only on the academic exchange opportunities with this Nordic neighbor, one quickly realizes that the country has much to offer. In addition to qualified education, the leisure time value is immensely high, which Swedes also appreciate.
The partner university of TH Köln is located in the South of the country, in the smallest Swedish province Blekinge Län. The provincial capital Karlskrona is de facto located on an island, but connected to the mainland by bridges, in the middle of a small archipelago and about 100 km from Malmö and Copenhagen. Karlskrona is one of the two locations of the university. A little closer to Malmö and Copenhagen is the second campus in Karlshamn. These two charming, picturesque cities, each named after a King Charles (X and XI), are situated on the Baltic Sea. The list of things to see and experience there is endless: kayaking, cycling, wreck diving, hiking, seal safari, sailing, discovering world heritage sites and the surrounding area, and above all, like the Swedes, spending a lot of time outside. This also applies to swimming in the Baltic Sea, because Blekinge's coast often has good weather. Thus the small island Hasslö is also jokingly called "lilla Hawaii", little Hawaii, because of its many hours of sunshine.
.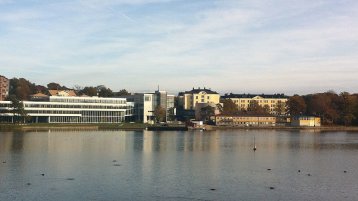 (Image: Hellstormen gemeinfrei auf Wikimedia)
Blekinge University of Technology (Blekinge Tekniska Högskola - BTH)
Blekinge University of Technology, founded in 1989, is a globally attractive knowledge community in the field of applied IT. It is also very innovative in the field of sustainable growth. Since September 1st 2008, the university is climate neutral. Education and research at BTH have a very high international standard. Its focus is on applied information technology and innovations for sustainable growth.
BTH offers study programs and individual courses at Bachelor, Master and PhD level. About 5,300 students are enrolled in 21 Bachelor and 12 Master programs. In addition to the large number of nationalities represented in the faculty, around 600 international students from all over the world ensure an international and multicultural environment at the university.
The BTH uniquely offers two Master programs and a PhD program in strategic sustainable development.
At a Glance
Name of University
Blekinge Institute of Technology
Erasmus-Code
S KARLSKR01
Year of Foundation
1989
Type
public
Number of Students
5,300
Tuition Fee
waived in Erasmus+ program

Campus locations with English-taugh study offers

Karlskrona:

software engineering
telecommunications
informatics
civil engineering and structural mechanics
spatial planning
strategic leadership towards sustainability

Karlshamn:

digital games design
digital games
digital video production
digital audio production

Application Deadlines

March 15, 2020 for the winter semester 2020/21

September 15, 2020 for the summer semester 2021
From Köllefornia to California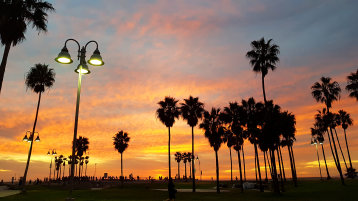 (Image: Gustavo Gerdel gemeinfrei auf Wikimedia)
When you think of California, do you only think of San Francisco and Silicon Valley? Then you haven't been there yet! Discover the most populous state in the U.S. during your semester abroad, so the dream of visiting Hollywood doesn't remain a mere wish.
The "Golden State" became famous and popular mainly because of the gold rush that started in 1848. Since 1850 California has been one of the stars on the famous "Stars and Stripes" flag.
Today the state on the Pacific Ocean is the world's second largest sub-national economy; companies such as Facebook, Apple, Walt Disney and Alphabet have their headquarters here.
However, the state is not only a perfect destination for entrepreneurs, but also for nature lovers, who have the agony of choice when visiting the countless national parks.
Mountains, ocean, and desert - more variety is not possible!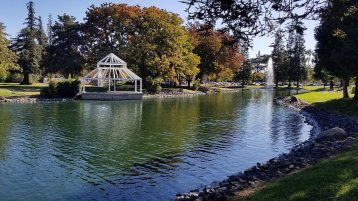 (Image: Cameron11598 gemeinfrei auf Wikimedia)
With the Californian State University Stanislaus, also called Stan State, TH Köln has a partner university in the heart of California.
The public university was founded in 1960 as Stanislaus State College and today is part of an association of over 23 universities in California, spread across the state and with a total number of over 400,000 students. Stan State itself has approximately 10,000 students spread over two campuses (Turlock and Stockton).
The city of Turlock with about 70,000 inhabitants is an ideal starting point for trips within California due to its location - 1 hour to the mountains, 2 hours to Yosemite National Park and 1.5 hours to the coast.
At Stan State you will experience classic U.S. campus life (the university offers a gym, an art gallery and a shopping street). If you want to immerse yourself even deeper in American culture, consider a homestay with a host family!
Students in Social Sciences, Economics, IT & Communication Sciences have the opportunity to apply for a free place at Stan State, which includes the waiver of tuition fees.*
Did you know that the name California most likely comes from a Spanish saga in which an island, full of gold was ruled by Queen Califia? The Spanish conquerors in the 16th century gave the Baja California area this name.
* If you are not selected, you can still go to Stan State as an exchange student, but you would have to pay the fees of about 5,500 USD yourself.
At a Glance
Name of University
California State University, Stanislaus (Stan State)
Year of Foundation
1957
Type
public
Number of Students
10,000
Research Areas
Research projects and work (including climate change, engineering sciences, water management) are carried out within the university network of the California State University System (23 locations with about 400,000 students).
Organization

The Stan State is part of the California State University System. It is represented at two locations: Turlock (Central Valley) and Stockton.

College of the Arts, Humanities and Social Sciences
College of Business Administration
College of Education, Kinesiology and Social Work
College of Science

Stan State offers 43 Bachelor and 16 Master programs.

Courses are offered in fields such as economics, social sciences, modern languages and communication science, IT and natural sciences.
Tuition Fee

They are waived for student exchanges with TH Köln.

Application Deadlines

Exchange places of the Department of International Affairs:

April 1, 2020 for the winter semester 2020/21

October 1, 2020 for the summer semester 2021