Partner Universities of the Month (July 2020)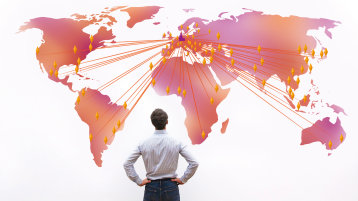 Beginning of the year: time for something new! We would like to start this year with a new section – the partner universities of the month. Every month, the Department of International Affairs will present one European and one non-European partner university. By presenting, we would like to inform you about the many possibilities you have when going abroad during your studies.
In June we will be presenting Universidad del País Vasco in the Basque Country in Spain and the Université Catholique d'Afrique Central in Yaoundé, Cameroon.
The Basque Country – the Spain you've never heard of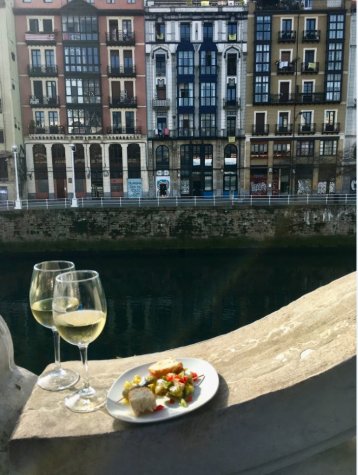 This July, we're taking you on a mental trip to the North of Spain, more specifically to the Basque Country and our partner university Universidad del Pais Vasco (University of the Basque Country). The region in the North is part of the lesser-known Spain. It's located on the French-Spanish border right next to the Pyrenees and stretches out West to the Atlantic Ocean. The so-called pintxos (a basque kind of Tapas) and Pelota, all ball game, are typical for the region. Pintxos-Bars and Pelota-fields (frotóns) can be found in almost every little village.
The Universidad del Pais Vasco, founded in 1980, is a public university and features 3 different campuses in San Sebastián, Bilbao and Vitoria-Gasteiz. More than 45,000 students are enrolled in 67 Bachelor's and more than 100 Master's programs. Since 2014, TH Köln has established a cooperation with six of its faculties:
F01: Faculty of Applied Social Sciences
F04: Faculty of Business, Economics and Law
F05: Faculty of Architecture
F07: Faculty of Information, Media and Electrical Engineering
F08: Faculty of Automotive Systems and Production
F09: Faculty of Process Engineering, Energy and Mechanical Systems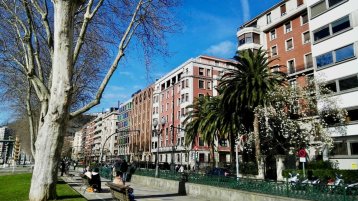 (Image: TH Köln / Internationale Angelegenheiten)
The mentality of the friendly, optimistic and cheerful Basque, guardians of one of the oldest languages and culture in Europe, the Basque language, can be found in their dynamic culture and the vibrant nightlife in all three cities.
The Álava campus is situated in Vitoria-Gasteiz, the capital of the Basque Country. The city has earned the name of "European Green Capital" in the last years thanks to its vast green spaces and its small ecological footprint. Aside from its many forests and nature reserves, the city also has a lot to offer culturally: You can, for example, visit the renovations taking place in Santa María Cathedral, which have enspired Ken Follet's book "World Without End". The nearby archeologic sites and stunning monuments are just waiting to be discovered by you. If you're more interested in arts, the Artium Museum might be right up your street. Or maybe you want to make the most out of all the possibilities when it comes to sports and use the wider array of trekking- and mountain bike trails, water sports or paragliding clubs.
The Biscay campus features buildings in Bilbao, the biggest and most important port city in the region, and Leioa, a smaller city some 20 kms from Bilbao. The overwhelming majority of faculties is located in the "capital of finance" Bilbao. The former industry city has seen a huge increase in popularity thanks to the world-famous Guggenheim museum. It has since become very attractive to famous architects and designers, such as Zaha Hadid.
The third campus is called Gipuzkoa and is located in the former European Capital of Culture San Sebastián. The vibrant city is known for its Jazz- and international movie festivals on one hand, but on the other hand also features countless possibilities to get active, such as surfing in the nearby Bay of Biscay. Going on a hike on the Igeldo, Urgull and Ulia mountains can be recommended just as much as taking a trip to its neighboring country, France, only 20 kilometers away. Insider advice for all you Tapas lovers: Every Thursday, "Pintxo Pote" takes place all over the city. It is a special event where tapas and drinks are offered for cheap and people just go from bar to bar. If you're looking for laid-back vibes to get in touch with locals, this is your chance.
The neighborhood located furthest from the campus, but where most of the international students live, is called Gros. The nightlife sector and the Pintxo-route of San Sebastían and the local Surfer's Hot Spot Playa Zurriola are highly recommended by the Lonely Planet guide. There sure is a reason why the credo of this university is "Sea, School & Sun."
At a Glance
Name of University
Universidad del País Vasco (UPV/EHU)
Erasmus-Code
E BILBAO01
Year of Foundation
1980
Type
public
Number of Students
45,000
Tuition Fee
not applicable within the Erasmus+ program
Courses taught in English

The course directory for exchange students is available here --> Academic Offer.

Application Deadlines

September 15, 2020 for the summer semester 2021

March 15, 2021 for the winter semester 2021/22
Exchange adventure in Africa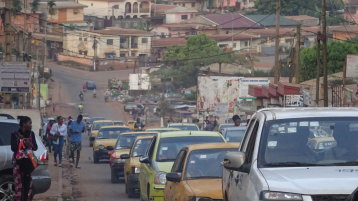 (Image: Julian Garrecht)
There's hardly a continent as diverse in culture as Africa. Those who seek experiences off the beaten path and well-known exchange semester countries will find an entirely new world to explore here. However, there are also many things to explore.
This month we are presenting Université Catholique d'Afrique Centrale ( Catholic University of Central Africa - UCAC), our partner university in Yaoundé, Cameroon. Around 2,000 students are currently enrolled at this 3-campus private university, which was only founded in 1991. TH Köln students of the Faculty of Business, Economics and Law are offered the chance to study at UCAC within an exchange program. There's lots to learn about the country and the culture. Courses are offered in the fields of human resources, business management, financial accounting, marketing, banking and many more. The individual campuses are equipped with relatively many and good sports facilities.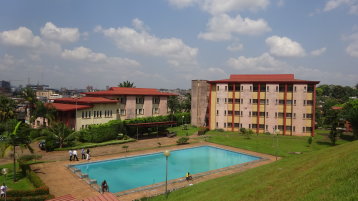 (Image: Julian Garrecht)
Did you know that Cameroon is the only Afircan country that has got tEnglish and French both as official language? That alone will already be a challenge. Apart from these two, experts estimate that more than 250 different languages and dialects are still spoken today, especially in the more rural areas of the country. In addition to the official languages, there is also the so-called "Camfranglais" or "Camanglish", which is based on French and has taken words from English and various dialects. For those of you who understand French, this colloquial language should not be too much of a hurdle.

And this country's culture is just as diverse. Even though UCAC and its more catholic influences may give a different impression, only 60% of Cameroonians are of Christian or Muslim faith. 40% of Cameroonians practice their own religion and beliefs, often varying between the regions.
Speaking of the different regions: If you've never been to Africa, Cameroon is a great chance to experience Africa's richness in nature without leaving the country. Often titled as "Africa in a nutshell", Cameroon features diverse and extremely different environments. From savannah in the north to mountains in the west, to rainforest in the south, everything is possible and can be visited here in Cameroons many National Parks. In Waza National Park, the most famous park, you even have the chance to see animals such as lions, monkeys, hippos, buffalos and many more.
If you are more interested in the big city life, the jungle of Yaoundé offers many different experiences as well. Yaoundé, the country's capital, offers a home to an estimated 2.4 Million people, making it the second biggest city in Cameroon after Douala, port city and the country's economic capital. On its National Holiday, May 20, the country's biggest celebration parade can be found here, flooding the streets with spectators. However, even on usual days, the streets in Yaoundé can become confusing very quickly as there are hardly any street names or signs placed throughout the city. Most of the streets don't have names, but numbers. Citizens get around by orienting themselves around big junctions, hills or famous buildings such as hotels or government buildings. If you know your way around here, you've really mastered the big city jungle. Adventure's calling for you!
By the way: There are already direct flights from Brussels or Paris.
At a Glance
Name of University
Université Catholique d'Afrique Centrale (UCAC)
Year of Foundation
1991
Type
private
Number of Students
2,000
Rankings 2019/20

National Ranking Cameroon: #9 [Webomatrics]

Cooperation since

2010

Tuition Fee

not applicable with student exchange with TH Köln

Application Deadlines

Exchange places of the Department of International Affairs:

October 1, 2020 for the summer semester 2021

April 1, 2021 for the winter semester 2021/22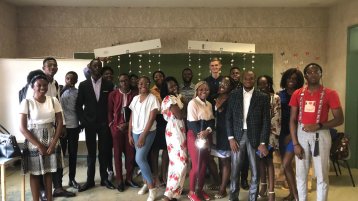 (Image: Julian Garrecht)
Julian Garrecht, a student in the Faculty of Business, Economics and Law, was an exchange student at UCAC. We briefly asked him about his semester abroad:
Why did you decide to study at ITU specifically?
In the beginning there was a contact between the TH Köln and the UCAC. I wanted to have a linguistic and cultural challenge. I was referred to Prof. Mayer, who is the first point of contact when it comes to studying at a university in Cameroon. At first he told me about Cameroon and explained the country because he was already there.
What does your everyday life look like?
My everyday life consisted mainly of university commitments. The lectures took up a large part of the time and in the evening projects often had to be prepared in group work. However, on Saturday afternoons I always played soccer or took part in other privately organized activities. Evenings were often spent on campus or in the cheap bars around the campus.
How was the class compared to TH Köln?
There is a class system at the university, which means that you are in a class like at school and take different subjects with the same fellow students. The courses took place Monday to Friday from 8 a.m. to 6 p.m. and Saturday from 8 a.m. to 12 p.m. Attendance is compulsory. The courses were sometimes canceled or the lecturers came too late. However, extreme punctuality was expected from the students. If you were about five minutes late, you had to wait for a sign from the lecturer in the entrance to be allowed to enter.
What is your conclusion?
For me, the semester in Cameroon was a linguistic, cultural but also a great challenge. Away from our world, there were completely different rules that I had to understand first. In addition to the many challenges, I have also made good friends. I can only recommend Cameroon to anyone who wants to do something extraordinary and has a lot of patience, interest and openness.
Impressions from Cameroon
July 2020