Partner Universities of the Month (December 2020)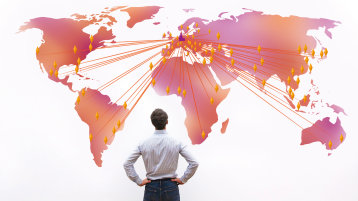 Beginning of the year: time for something new! We would like to start this year with a new section – the partner universities of the month. Every month, the Department of International Affairs will present one European and one non-European partner university. By presenting, we would like to inform you about the many possibilities you have when going abroad during your studies.
Let us inspire you and follow us!
We will close 2020 with the Høyskolen Kristiania in the Norwegian capital Oslo, as well as with an "Out of Africa" ​​feeling with the Dedan Kimathi University of Technology in Nyeri, Kenya.
North way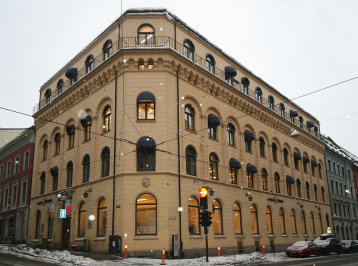 "North Way" is the Old Norse name for the Kingdom of Norway. Anyone who picks up a map will find that this name is more than appropriate. We want to go this way together, wrapped in our most extraordinary Norwegian sweater, which has already earned a reputation as "Ugly Christmas Sweater" in recent years.
Our partner university of the month is Høyskolen Kristiania (Kristiania University) in Oslo, Norway. The name already suggests that this university has a long tradition! "Kristiania" has not been the name of the city of Oslo since 1924. Kristiania University is one of the oldest private universities in the country and has around 10,000 students at 5 locations in the city and two other locations in Bergen. Students of the Faculty of Computer Science and Engineering Science as well as the Cologne Game Lab have the opportunity to see for themselves why KU attracts so many students. As a student, for example, you have access to services that are specifically tailored to the needs of students. Dormitory rooms, counseling services and sports facilities are offered by the equivalent of the Kölner Studierendenwerk. SHK, a large student union, is a good point of contact for everyone who would like to get to know local students. Even though German and Norwegian are related, speakers cannot always understand one another. Therefore, it is a good thing that the majority of young people in Norway speak English very well. With your newfound friends, you can go attend LiveACT, the largest student-organized music festival in Norway.revolves around research in modern technologies. It is thanks to this history filled with tradition that TU Warsaw is now not only the most renowned technical university, but also one of the largest universities in the country with around 30,000 students in 19 faculties.
Speaking of music: With over 5,000 concerts annually, Oslo is the city with the highest number of concerts per capita in Europe. One event location is the modern opera house, which is located directly on the coast. If you come to a concert here, you shouldn't miss the opportunity to climb onto the roof of the opera during the break and admire the sunset. The former department store district next to Aker Brygge harbor also invites you to spend the day here with its numerous restaurants and cafés. Those who prefer something a bit more traditional will also find regional specialties in Mathallen, for example Kjøttkaker, a special kind of meatball. After a small refreshment, a little thrill can't hurt. How about speeding down the Holmenkollen ski jump on a zip line? However, that's not for the faint hearted. After all, this is a fast route down 105 meters! If your hands are already sweaty just reading this, perhaps you should just enjoy nature instead. Because there is certainly enough of that in Oslo: 50% of the city area is forested.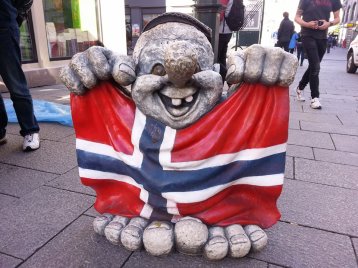 (Image: J.W. Schmitz-Michiels)
We can already tell: there are many things that should be on your bucket list. It is also very practical that Oslo is relatively compact. Everything seems only 15-20 minutes away from wherever you are, and is connected to the well-developed local public transport. Still, it's worth taking a look beyond the city limits. Nature lovers in particular get their money's worth here, because - of course - Norway also features fjords, glaciers, reindeer and northern lights. The dress code here is primarily a question of outside temperature. While the central part of the country has to withstand temperatures down to -25 ° C in winter, the conditions in the south are much milder, but rainier. Nevertheless, that shouldn't stop you from exploring the country, preferably with the Hurtigruten coastal ferry, giving you a chance to enjoy the picturesque coast. Bergen is also well worth a visit, not least because the railway line there is considered one of the most beautiful in the world. Less comfortable, but more extraordinary, of course, is a ride in a dog sled.
A Norwegian proverb goes: "He who comes last sees the least." Fortunately, Norway is full of sights; full of nature; full of life. All of this is just waiting to be discovered. And there is really enough for everyone to discover here!
At a Glance
Name of University
Erasmus-Code
N OSLO58
Year of Foundation
1914
Type
public
Number of Students
10,000
Cooperation since
2014
Tuition Fee
not applicable within the Erasmus+ program
Application Deadlines

March 15, 2021 for the winter semester 2021/22

September 15, 2021 for the summer semester 2022

Courses taught in English
Jambo Kenya!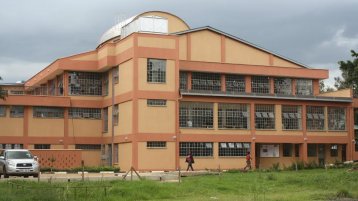 (Image: Iamsymon gemeinfrei auf Wikimedia)
Should someone suddenly have flashbacks to the music of the 90s and be embarrassed to think back to baggy jeans and crop tops: Sorry, that was not our intention! Actually, we just wanted to give our loyal readers a small thank you at the end of the year and teach them the most commonly used word in Swahili: Hello!
Of course, everyone wants to be able to apply what he or she have just learned immediately. Therefore, it is a good thing that our non-European partner university of the month of December is in Kenya, where Swahili is the official language alongside English. This month we are visiting Dedan Kimathi University of Technology in Nyeri, Kenya. Around 12,000 students are enrolled in a wide variety of programs at this state university. Mechanical engineering, electrical engineering, economics, applied sciences, information technology and even tourism are just a few of the subjects that can be studied here. Almost every student of TH Köln will find something here that suits his or her degree program. For those particularly interested in nature, there is even a coffee plantation here, which is used for research purposes, as well as a nature reserve where animals such as llamas, zebras and wildebeest live.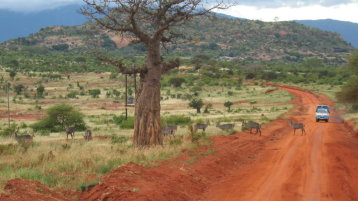 (Image: Simone Roda gemeinfrei auf Wikimedia)
Wildebeest can also be found at the hackathon event that is regularly organized on campus. Apart from that, there are numerous sports and cultural activities on offer on DeKUT campus, which are organized by various student associations. Contact with local students is always a given, as university life mainly takes place on campus outside the city. Accommodation and meals are also available in the vicinity. Those who prefer to live in the city can comfortably get to the lecture halls with the university's own shuttle buses. For all those who are particularly enthusiastic about technology, there even is a research cooperation with SIEMENS on campus.
Incidentally, Dedan Kimathi Wachiuri, who gave the university its name, was a rebel leader at the time of British colonialism, who was charged as a terrorist and executed before Kenya gained independence. DeKUT wants to continue the fight for freedom in his name. DeKUT considers technology, knowledge and progress the weapons of the 21st century. There are many stories like this in Kenya. The history of the colonial era can be felt in every corner of the country. For example, Nyeri itself was originally intended as a trading hub for agricultural goods and is still predominantly agricultural today. The extremely high cultural and ethnic diversity of the country still testifies to the arbitrary demarcation of bygone times. Almost 70 different languages are spoken in Kenya. There is also no such thing as "the" Kenyan culture. Different population groups have their own traditions, rituals and cuisines.
By the way, Kenya is named after the Mount Kenya massif near DeKUT. About 20 kilometers outside of Nyeri, Mount Kenya national park with the second highest mountain on the continent is absolutely worth a visit. It is also a UNESCO World Natural Heritage Site. Those who truely love the outsides will also be happy to hear that there are numerous other national parks worth seeing. Kenya is also considered the best country for safari tours. The tours take place under the principle of "Just look, don't touch", as hunting is officially prohibited in Kenya.
On the other hand, hunting for new experiences and encounters is not forbidden, but encouraged. There is plenty of it here for interested students. After all, Kenya's motto is "Harambee!" - "Let's all work together!"
At a Glance
Name of University
Dedan Kimathi University of Technology
Year of Foundation
2012
Type
public
Number of Students
12,000

Cooperation since

2019

Tuition Fee

not applicable with student exchange with TH Köln

Application Deadlines

Exchange places of the Department of International Affairs:

April 15, 2021 for the winter semester 2021/22

October 15, 2021 for the summer semester 2022
Impressions of Oslo and Kenya
December 2020