Partner Universities of the Month (August 2020)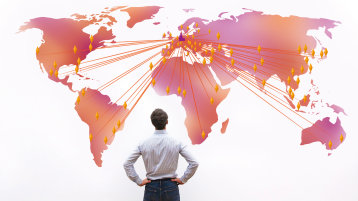 Beginning of the year: time for something new! We would like to start this year with a new section – the partner universities of the month. Every month, the Department of International Affairs will present one European and one non-European partner university. By presenting, we would like to inform you about the many possibilities you have when going abroad during your studies.
In August we will be presenting Rotterdam University of Applied Sciences in the Netherlands and the Georgian Technical University in Georgia, in the distant Caucasus.
Gateway to Europe - one of the many nicknames of Rotterdam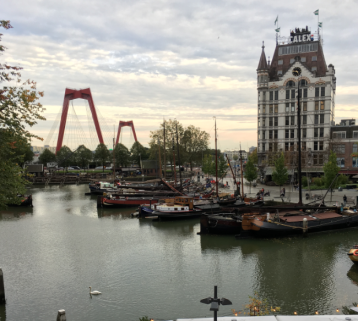 A couple of years ago, a German Rap-Duo called Holland "the coolest city in the world". Of course, that's not entirely correct. This week, we have decided to provide some facts and debunk this myth.
Our partner university of August is Hogeschool Rotterdam (Rotterdam University of Applied Sciences). Founded in 1988, almost 40,000 students pursue their degree program at this public university nowadays. TH Köln and HR have launched a first exchange program for students of Köln International School of Design (KISD) in 2015. However, this year marks the beginning of a broadened exchange program, also allowing students of the Institute of Information Science (IWS) and the faculty of Computer Science and Engineering Science to experience the amenities of living in one of the most modern cities in the Netherlands. By the way, exchanges between Rotterdam and Cologne have a long history. Rotterdam is one of the oldest partner cities of Cologne, establishing the friendly relations all the way back in 1958.
Admittedly, having been founded in 1988, HR sounds rather young. However, education also has a long tradition in Rotterdam. Hogeschool Rotterdam was created through a large-scale merger of about 19 different universities in the city. That is why the university is still teaching at ten different locations and campuses spread throughout the city. "Go beyond" is the general credo at Hogeschool. The university aims to provide inclusive education at the highest level. Having more than 30 students in a class is more than uncommon, which makes for an inspiring learning environment.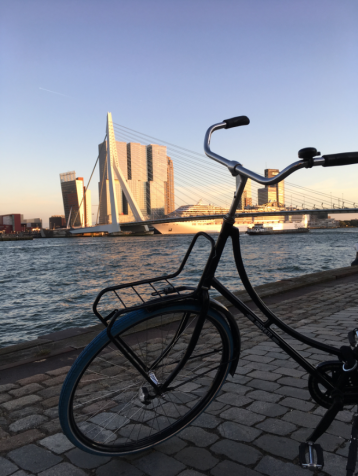 (Image: Melina Hanhart)
Probably every student of TH Köln has already travelled to the Netherlands. Perhaps to discover the culinary sides of the country, such as cheese, fries or Firkandel (sort of minced-meat hot dogs). Maybe because of the friendliness and openness of the people. Or perhaps simply to shoot the perfect selfie in the extensive tulip fields or against the backdrop of Amsterdam's old town.
Rotterdam is the second largest city in the Netherlands with a population of around 600,000. The port of Rotterdam is the largest seaport in Europe and an important traffic junction for Europe. Even though you often only know or have visited Amsterdam as a foreigner, Rotterdam is wrongly overshadowed by its big sister. The city is often regarded as the undiscovered, cheaper alternative to the tourist-crowded capital. From an architectural point of view alone, Rotterdam is a real eye-catcher and worth a visit. After all, the city was named "City of Architecture" in 2007. However, there is also a lot to see and experience culturally. For example, the large, modern market hall with its numerous restaurants and delicatessen shops, the first in the Netherlands. Or the Museum Boijmans Van Beuningen, which houses around 140,000 exhibits of classical and modern art, artefacts and designs. You can relax in one of the many parks, or, if the weather is nice, you can make yourself comfortable just outside the city, at Lake Kralingse Plas. There is also a lot to discover once the sun sets. No matter if it's concerts like the important North Sea Jazz Festival, in the bars or at a football match of one of the numerous professional clubs, something is always going on here.
Rotterdam is one of the most diverse and liberal cities in Europe. For example, more than half of its inhabitants have a migration background. At the same time, the population is relatively young. It is certainly also thanks to this interesting mixture that, since 2009, the first Muslim mayor of the Netherlands, Ahmed Aboutaleb, rules here.
Student life is a little bit different from what you know from Germany. While in Cologne, for example, the near-death experiences are strung together when cycling, Fiets enthusiasts in Rotterdam have entire cycle highways just for themselves. Furthermore, student associations are much more important here than in Germany, which is ideal for quickly making contact with locals and their culture. However, one thing that does not differ between the two countries is the cost of living.
Well, we have learned: Holland is not a city. But a semester abroad here is still quite cool!
At a Glance
Name of University
Rotterdam University of Applied Sciences
Erasmus-Code
NL ROTTERD03
Year of Foundation
1988
Type
public
Number of Students
39,500
Tuition Fee
not applicable within the Erasmus+ program
Courses taught in English
Application Deadlines

September 15, 2020 for the summer semester 2021

March 15, 2021 for the winter semester 2021/22
შემომეჭამო - Shemomedjamo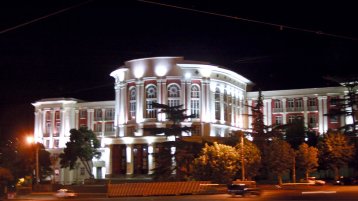 (Image: Sven Teschke, gemeinfrei auf Wikimedia)
Languages from other regions and parts of the world surprise us again and again with word creations that are definitely missing in our mother tongue. Do you know this moment: You sit around after a sumptuous meal, shaking your head and holding your stomach and you realize that you can't possibly eat another bite - and then stuff the rest inside you. "Shemomedjamo" means "I have accidentally eaten everything" in one word. It is definitely no coincidence that Georgian of all languages created this word. The country is famous for its food and drink culture and the extraordinary hospitality of its people.
This month we're presenting Georgian Technical University (GTU) in Tbilisi, Georgia. With around 20,000 students, GTU, founded in 1922, is one of the largest and oldest universities in the country. With its credo "Scientia Potestas Est" (knowledge is power), the GTU continues to occupy one of the top positions in rankings in Georgia. This same power will be awarded to students of the Faculty of Architecture of TH Köln within an exchange program. However, GTU also offers its (exchange) students a great number of activities outside of their studies: from traditional dance groups, male choirs, orchestras, basketball and rugby teams to charitable activities, everything is possible here.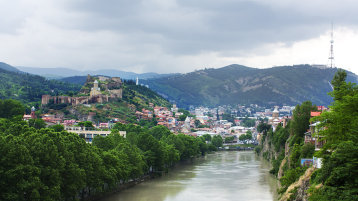 (Image: Levan Gokadze, gemeinfrei auf Wikimedia)
Sport plays an important role in Georgia. Some of you may remember that the 2015 UEFA Super Cup was held in Tbilisi. However, winter sports, for example, are just as possible in Georgia in the Caucasus Mountains as water skiing on the Black Sea coast.
The hilly city of Tbilisi lies on the Kura River and has a relatively continental climate. With around one million inhabitants, Tbilisi is both the capital and the heart of Georgia. After all, almost one third of Georgians live here. This is noticeable, not least in the comparatively very good infrastructure, but also culturally. Tbilisi not only has a distinct street art scene, but also one of the best techno clubs in the world. The party here is political, once a month, the club hosts a big LGBTQ night - a place where you can be whomever you want. This is not always a given in traditional Georgia.
However, the morning after a wild night you don't have to lick the wounds of the evening all by yourself. It is much better to relax in the historic bath houses in the city centre. The Georgian name of the city roughly translates to "warm spring". The hot springs under the city have been used for thermal baths for centuries.
Tbilisi is a city of contrasts and many different facets. Modernity and antiquity meet in this city, seen by old merchants as the "gateway to Europe". Those who want to discover themselves and Europe from a different perspective have always been welcome here and will continue to be so in the future.
August 2020