New Management System in the University Library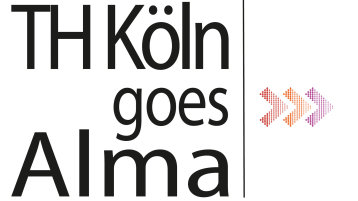 As part of a state-wide project, all scientific libraries in North Rhine-Westphalia have joined to introduce a uniform library management system (Alma). Since September 5, 2023 printed, electronic and digital media are managed with Alma under a single interface.
+++ Here we will inform you about the project and upcoming changes +++
The changeover to Alma ("GoLive") was successful: after months of preparation, the new management system was launched on September 5, 2023. All services are available again as usual (e.g. access to the account functions in our online catalog and ordering items via interlibrary loan).
New services and functions with Alma
Changes as of September 5, 2023:

Loan periods & renewals

The loan period for TH Köln students, guest users and alumni is 1 month. One item can be borrowed for a maximum of 6 months. During this period, you can renew the loan period as often as you wish. Renewals are possible from 7 days before the end of the loan period.

Additional information on renewals

To professors, staff, adjunct lecturers and retired professors special loan periods apply. For more information, please click here.

Reservations & orders

With Alma, reservations and orders are no longer placed on copies, but on the title. This ensures that you receive an item as quickly as possible. You only need to click on the button "order" or "reserve" below the stock list. You no longer have to select a specific copy.

Another change: If a title has been reserved, a renewal of the loan period is only possible for all borrowers once a copy has been returned.

Further information on reservations and orders.

PIN for self-service stations

To migrate to Alma, all PINs for the self-service-stations were automatically reset to the default DDMM (day and month of your birthday). Log in to your library account in the online catalog and change your PIN under "adapt settings".

Proxy user

You can grant full access to your account to other persons. The authorization is valid until revoked and includes:

- Borrowing, return and payment of fees at the service desk

- Reservations and orders for items of the University Library

- Ordering articles and books via interlibrary loan

Please fill out our online form and send it to your campus library via email:

Grant of athority (in German)

Receipts & notifications

Thanks to Alma, you won't receive printed receipts any more. Receipts and notifications (e.g. for borrowing items, returns and renewals) will be send to you via email.

Pre-reminder for the validity of your library card

For now, we won't send any emails to remind you of the expiration of your library card.
Project information
details & schedule
On behalf of the Ministry of Culture and Science and under the leadership of the North Rhine-Westphalian Library Service Center (hbz) in Cologne, more than 40 scientific libraries in the state are introducing a new, cloud-based library management system by 2023 as part of the project "GO:AL". The system Alma from ExLibris will replace the heterogenous management systems used locally in the state's libraries as well as the hbz Union Catalogue.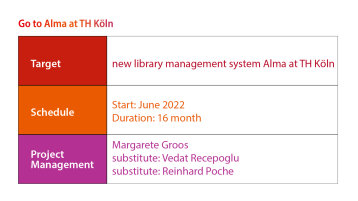 The library management system is the central platform for acquisition, e-resource management, circulation and interlibrary loan. Currently, the University Library uses the system SisisSunRise to manage – physically and electronically – around 730,000 titles, approx. 221,000 borrowings per year and approx. 30,000 library users.

(Image: TH Köln/ Alina Beier Anke Fedder)
September 2023