DAAD Prize 2023 of TH Köln for Samaneh Ilchi
Bachelor student Samaneh Ilchi won this year's DAAD prize for her outstanding academic achievements and her extracurricular commitment. Ilchi received the 1,000-euro award at the City of Cologne's town hall reception for new international students, doctoral candidates, and visiting scholars at Cologne's universities.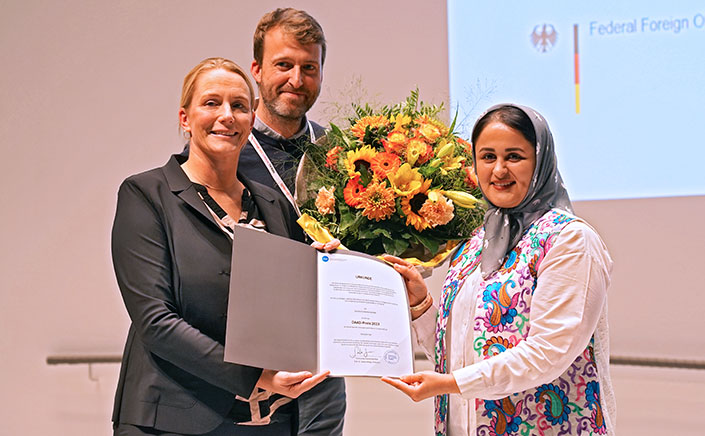 "Ms. Ilchi is completing her Data and Information Science studies with great dedication and intellectual curiosity. She has consistently shown excellent performances and a great work ethic. This puts her among the top ten percent of students in her semester," writes Prof. Ragna Seidler-de Alwis from the Institute of Information Science in her recommendation to the DAAD selection committee at TH Köln. She is also always happy to help other students, especially in the areas of programming and search engine technology, adds Seidler-de Alwis.
Before her studies at TH Köln, Ilchi studied Library and Information Science at the Nabi Akram University in Tabriz, Iran. After graduating, she worked as a librarian at the Rahbord Shomal University in Rasht (Iran). In 2017, Ilchi came to Germany. "My original plan was to work as a librarian here. I had no intention to study again", Ilchi says looking back. "It was a mere coincidence that I learned about the job of systems librarian, but I was curious right away. Since you need to be familiar with databases to become a systems librarian, I completed a further training course. After that, I knew that I wanted to devote more time to that."
Extracurricular commitment
Ilchi then found the right course of study at TH Köln, again, by chance: "I attended a meeting of the university's Pamoja buddy program, where I learned about the Data and Information Science bachelor's degree. What I particularly liked about it was the combination of information analysis and programming", Ilchi says. After successfully passing the German language examination for university entrance (DSH) at TH Köln, she eventually started her studies in the winter semester of 2020. This winter semester, she will be writing her bachelor's thesis on the optimization of databases in libraries.
Ilchi not only convinced the jury with her academic achievements, but also with her broad extracurricular commitment. For example, she successfully completed the TH Köln certificate program "Sprache, Studium, Berufseinstieg" (Language, Studies, Career Start) and, over three semesters, offered free online consultation hours as a tutor for the modules of "Informationserschließung" (Information Exploitation). Since her internship semester in 2022, she also works at the University and State Library Düsseldorf. In Iran, she spent two years volunteering at the library of the University of Guilan in Rasht.
Video: Samaneh Ilchi introduces herself
Focus on a master's degree at TH Köln
Ilchi now feels very much at home in Cologne. "At the beginning, when I had only arrived in Germany, I was quite stressed and worried about my future. But that has changed with my studies. I've become much more confident, now, that I know where I'm going", she says. The extensive support she received at the university also helped her in this endeavor: "Be it fellow students, professors or other contact persons – everyone is very open and always happy to help."
After her bachelor's degree, Ilchi plans to pursue a master's degree in digital sciences at TH Köln: "I love my studies and definitely want to acquire more qualifications in the field of data analysis." In the future, Ilchi plans to continue working in an academic library. "I could certainly work in the business field, but the environment of a university library has always excited me. So my goal is to continue combining this field with my passion for programming."
October 2023