International Board of Advisors (IBOA) of the Faculty of Automotive Systems and Production
About us
The Faculty of Automotive Systems and Production founded the International Board of Advisors (IBOA) in 2004 together with selected personalities of industry and commerce. The aim is an intensive exchange between the members of the faculty and the executives. It addresses the challenges that the constant changes in the academic and industrial world pose to the faculty.
Tasks
The degree programs of the faculty are characterized by a highly professional and scientific level with a strong orientation towards practical application. The professors cooperate in various ways with representatives from industry and commerce. The International Board of Advisors (IBOA) advises the faculty on the further development of courses and research activities. Furthermore,
it supports students,
participates in activities of the faculty
and promotes the anchoring of the faculty in industry and commerce.
Members
The International Board of Advisors currently consists of 19 representatives from industry and commerce.
Click here to see the current IBOA members.
Support for students
The IBOA members would like to provide students of the faculty with the opportunity to combine theoretical approaches and practical application. They offer internships and practical semester positions or topics for project and final theses in cooperation with the faculty. Furthermore, they assist students in their career starts or in the further development of soft skills.
Meetings
35th Meeting of the International Board of Advisors on January 20, 2023
After three years in which the meetings could only take place online or hybrid, the members of the IBOA and the faculty met for the first time again in presence at Deutz Campus in the Senate Hall on January 20, 2023.
The main topics of the meeting were current research projects, international collaborations as well as the development of our faculty and the challenges of the transformation of the automotive industry.
Firstly, the contribution of our faculty in the project Transformation Network for an electric, sustainable and digital automotive industry 2030plus (short TrendAuto2030plus) was presented, followed by a currently acquired third-party funded project, which deals with the mathematically based anonymization required for the use of statistical data by science. Reports were also given on the successful use of Erasmus funding extensively acquired at our faculty in collaboration with European universities. Furthermore, our IBOA chairman presented the current situation in the automotive industry and an outlook. The session presentations were concluded with notes on current developments in our faculty as well as our university.
The 36th meeting will take place in late summer 2023 at the Westfälische Lokomotiv Fabrik Reuschling in Hattingen.
Gallery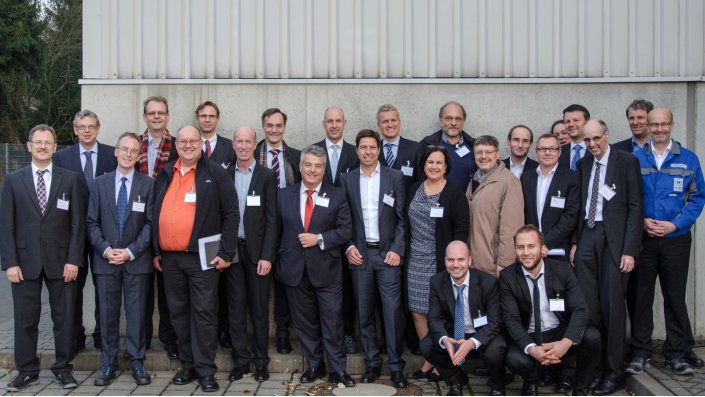 0 / 0
Participants of the 21st meeting of the International Board of Advisors on 14.11.2014 (Image: Pawel Lipinski/FH Köln)