CAD CAM Center Cologne
The CAD CAM Center Cologne belongs to the Faculty of Automotive Systems and Production of the TH Köln and defines its main task as realization research.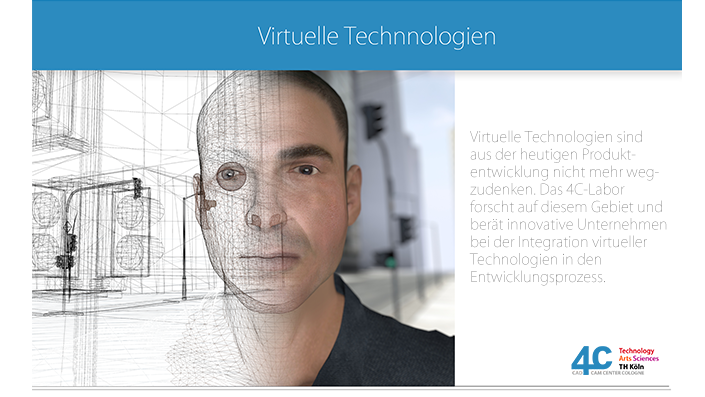 Nowadays, product visualization is no longer based on photography alone, instead three-dimensional models are used to simulate the illustration on the computer. Above all, this approach saves costs and makes it possible to generate image material early in the development phase, which can be used for a wide variety of purposes.
Especially marketing and sales can benefit from early visualizations. Today, for instance, the automotive industry makes use of configurators, that make it possible to display many variations of a vehicle. The customer is thus given the possibility to assemble his vehicle according to his preferences. However, high-end visualizations are also interesting for assembly instructions or product evaluations.
Together with our partners we offer the preparation of your CAD product data and an appealing photo-realistic visualization in pictures and film. A visualization on one of our VR systems is of course also possible upon request.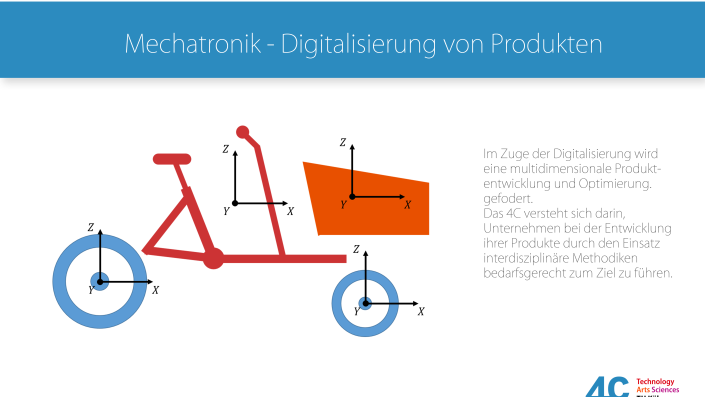 (Image: CAD CAM Center Cologne)
In the age of industry 4.0 and stringent development cycles, systematic thinking is becoming increasingly important in the development process. We apply this systematic thinking with the help of mechatronic methods.
Modelling, i.e. the mathematical description of a technical system, enables us to analyze the dynamic behavior of the real system. This can be machines, tools or vehicles, for example. A specific application example is the observation of flutter oscillations of a simplified two-wheeler model, represented as a multi-body system. The flutter oscillations triggered by excitation of the natural frequencies can be analyzed and counteracted by suitable measures.
The actual development process is characterized by its interdisciplinary character. We thus combine expertise from the fields of mechanical engineering, electrical engineering, computer science and mathematics, and are thus able to develop products with an optimal dynamic behavior. In addition, we can react efficiently and flexibly to the requirements resulting from digitalization.
In other words, the interdisciplinary workflow allows a more efficient and multicriterial design of product development and optimization.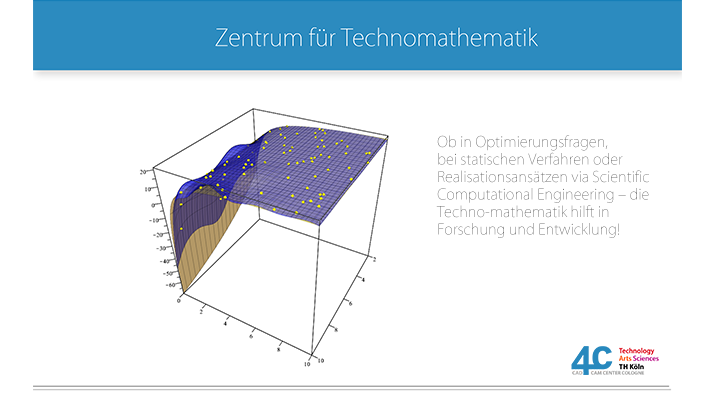 (Image: CAD CAM Center Cologne)
Technical innovation speaks the language of mathematics - for today's developments in an increasingly digitalized world, this sentence applies more than ever before. The application of existing mathematical methods to ever new questions and challenges of technical practice is the mission of technomathematics.
Technomathematicians offer support to development engineers if they want to make use of procedures and methods of higher mathematics. Technomathematics describes the interface to Industry 4.0, which is indispensable for the innovation tasks of today's development departments.
The Center for Technomathematics at the TH Köln offers in-depth mathematical expertise paired with technical understanding and digitization experience. The spectrum of topics ranges from mathematical modelling and numerical simulation methods to the application of statistics and optimization processes.