Automation & IT (Master's program) – Career Options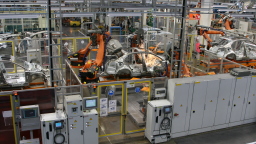 The automation market currently offers very good opportunities for the graduates of the Master's program in Automation & IT.
At present, the career prospects in the automation sector can only be described as excellent. Potential future employers include:
Users of automation technology in the fields of manufacturing and process engineering, power plant technology as well as building services engineering Automation system integrators
Service providers in the fields of engineering and software development
Component manufacturers in the industrial automation sector (devices, control technology)
Producers of digital communications systems
Automation services, whether provided in-house in companies using automation technology or by specialized external service providers, account for approx. 50 percent of the global automation market. Large producers of automation solutions such as Siemens, Emerson Process, Honeywell, Rockwell as well as a number of medium-sized companies mainly focusing on components such as sensors, actuators, process-analytical and weighing technology account for the other half of the automation market. Europe – and Germany in particular – is in a strong position in the global market, be it as users or suppliers of automation systems. Despite the rapidly growing market in Asia, this situation is not likely to change.