Alessandro Parmigiani – London South Bank University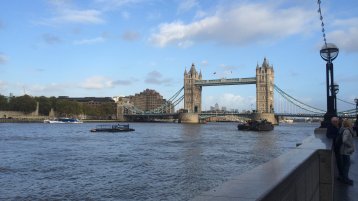 London, Großbritannien - 2017



London, UK
What you normally would expect from London is an open, international and multicultural city. This is exactly what I found there.
My stay in the capital of the UK has been made easier by my relatives, who live there since 2006. I was able to spare the money of an expensive flat and learn how life works in a big family like them.
The reasons why I choose to leave Germany for a semester abroad were multiple: live in a different culture, improve another language and experience the British Uni system. I came back with a lot more than just these 3 goals.
The University
Since this text is about my student experience I'll start with my host university. Situated a 10 min walk from Waterloo Station, London South Bank University is an international school where you can hardly find native English students. The professors are also coming from all over the world, I had one from Iran and another from Brunei. Their preparation was satisfying while the level they required in exams was under my expectations. If you're an outgoing from TH Köln, you'll have high chances to pass all the exams without major problems.
I had to pay high fees for my study abroad semester: 4500£!
Although it represents a lot of money, it gives you the possibility to be in the centre of London and it gives you access to different services, like free access to gym and a personal tutor.
London and its social life
I spent a lot of my time around the city after lectures. All most famous points of interests are easily reachable from the Uni. London offers so many good corners and interesting museums to visit. I did like to walk to South Bank or Saint Paul 's Cathedral.
What should I say about London's night and social life? It's easy to meet new people even if you're alone. I felt being in a really challenging environment, with a lot of girls and guys coming to London to find success. Some of them are superficial while others motivate you, making you believe that everything is possible.
A place with a lot of ambitious figures make it also chaotic! In my point of view, this feature differentiates it a lot from Cologne. People seem to accumulate a lot of tension during the day and release it instantly inside the pub. A typical British day consists in waking up early, taking the train to the city centre, watching your own smartphone while drinking coffee to go, working as hard as possible, drinking a minimum of 5 pints Beer after Uni or after work and speaking with new people who you hardly will meet again.
All these aspects make me reflect about my future. Would I move there for a prolonged period? NO, I wouldn't. Would I undertake another semester abroad in London? YES, I would.
Juli 2018