Early-stage Researchers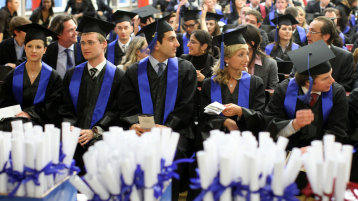 Promoting early-stage researchers is a declared goal of TH Köln - University of Applied Sciences.
Even though TH Köln is not permitted to confer doctoral degrees in compliance with the North Rhine-Westphalia Higher Education Act, it explicitly welcomes and supports doctorate projects carried out in cooperation with traditional universities. More than 130 doctoral students are currently researching at TH Köln – a trend that is set to grow even further in the coming years.
Doctoral students who conduct research in a cooperative doctorate at TH Köln may enroll and make use of TH Köln's infrastructure and services, including library, IT services and student-ID card.
A supervision agreement prepared by TH Köln regulates all rights and duties concerning doctoral students and their supervisors.
The Graduate Center of TH Köln provides comprehensive information as well as personal advice and support.