Early-Stage Researchers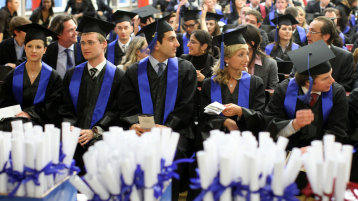 Promoting early-stage researchers is a declared goal of TH Köln - University of Applied Sciences.
Even though TH Köln is not permitted to confer doctoral degrees in compliance with the North Rhine-Westphalia Higher Education Act, it explicitly welcomes and supports doctorate projects carried out in cooperation with traditional universities. More than 140 doctoral students are currently researching at TH Köln – a trend that is set to grow even further in the coming years.
Graduate Center
The Graduate Center of TH Köln is signed as a central contact point for everyone interested in or already executing a doctoral project at TH Köln. It provides comprehensive information as well as personal advice and support in organizational concerns . Doctoral students who conduct research in a cooperative doctorate at TH Köln may enroll and make use of TH Köln's infrastructure and services, including library, IT services and student-ID card.
For its members, the Graduate Center of TH Köln offers various services such as a yearly "Afternoon for Doctorates", specific travel grants or coachings in cooperation with the Language Center of TH Köln, all especially to support the network inbetween the community, help the doctorated to develop and enhance soft skills and guide them along their way.
Supervision
Mentoring during the whole process at TH Köln is one of the main keys for a successful promotion. Because of that, we highly recommend a conclusion of our Supervision Agreement, prepared by TH Köln, which regulates all rights and duties concerning doctoral students and their supervisors.
Requirements for becoming a doctoral student at TH Köln and to benefit from additional services, are either to be enrolled in a cooperative doctoral study program at TH Köln and a university or an employment-relationship as a research assistant at TH Köln within the scope of a graduation. Thus, a Joint Supervision Agreement is an important document to ensure a highly qualified supervision of both TH Köln and the chosen university.
Transferable Skill Courses
For a successful accomplishment of every doctoral study it is mandatory to access other core competencies, next to professional expertise on the area of research. Apart from self-discipline and time management, it is also necessary to develop special writing and research skills for drafting your doctoral thesis.
The Competence Center of TH Cologne offers, more than 50 different learning sessions to additionally support the doctoral students, all in cooperation with the Graduate Center TH Köln.