Welcome New International Students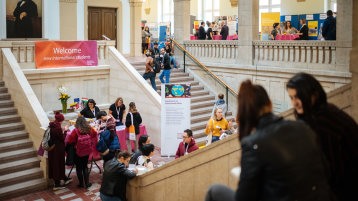 On October 9th, 2019, TH Köln welcomed its new international students. More than 250 students from around 70 countries found their way to Claudiusstraße this year. At the Welcome Fair they had the opportunity to get information about their new place of study and to network with other newcomers.
In the entrance hall students were greeted by staff of the Department of International Affairs and were given a name tag in the form of a country sticker to help them get in touch with other students. Some students already came in company of their TH Köln Buddy from the Karibu program. They were introduced to Cologne's gastronomic traditions with the TH-Köln beer coaster, on which the consumption of Halve Hahn, Frikadellche met Mostert, suure Jurke and Kölsch as well as non-alcoholic beverages was recorded.
This year for the first time featured exhibitors on various topics. On the gallery in front of the Mevissensaal students could get information on student services, language and buddy programs, university sports, exchange programs, free time activities, financing and other special advisory services for international students.
In addition to the opportunity to get a culinary impression of Cologne and to get in touch with the exhibitors, many international students also took the opportunity to send a postcard home with a personal greeting from Cologne.
The Department for International Affairs would like to thank the exhibitors and wishes all students a successful start at TH Köln as well as an exciting stay abroad in Cologne.