"Veedel"- Tour: Eigelstein
CULTURE, 16/06/2020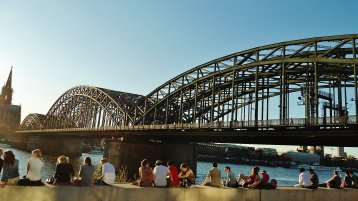 We take you to the Eigelstein - one of the most lively and multicultural "Veedel" in Cologne. You can look forward to interesting, funny and exciting stories about the Eigelstein, while you get to know Cologne a little better.
At a Glance
"Veedel"- Tour: Eigelstein
CULTURE
Where?
Meeting point: Eigelsteintorburg, Eigelstein 130, 50668 Köln
Costs
Participation fee: 3 €
Please note that the registration is only binding with the payment of the participation fee.
Series of events
Registration
Sign up at the Department of International Affairs from Jun. 2nd to Jun.16th, 2020.
Event is available to TH Köln students only.


If you cannot participate in an event after all, please inform us at least 5 day in advance. After that, we will only be able to reimburse your participation fee if you submit a medical certificate!

Organized by
Department of International Affairs
"Veedel" is the Cologne word for quarter or city district. However, when Cologne residents speak of their Veedel, they usually don't mean the district, but rather the immediate surroundings in which they live.
The Eigelstein is an original Cologne Veedel and has an interesting history. We will take you on a 2-hour guided tour called "Eigelstein - Relics, Bazaar and Klingelpütz". Part of the guided tour is also a visit to the Golden Chamber of the municipality of St. Ursula.