Trainings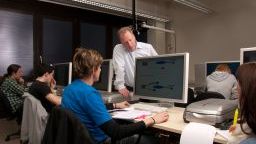 Electronic media offer a plethora of possibilities to enrich, support, and enhance teaching. Students can improve communication, cooperation and remove the barriers of time and place. If you would like us to offer training in one of these areas for your department do not hesitate to contact us!
Appointments
Do not hesitate to contact us in case you would like to offer training in one of these areas in your faculty.
ILIAS Basics
ILIAS allows teachers to communicate and supplement their teaching in a number of ways: by providing course material, making course announcements, or answering student questions online in a number of different formats.
For student internships, professors can assign tasks, upload material for students to work with, and assign a project deadline. ILIAS allows professors to manage student tasks and deadlines effectively. .
If teachers want to allow students to monitor their own learning process, ILIAS can catalog teachers' questions and align them with self-correcting answers to test students understanding.
ILIAS Advanced
ILIAS Advanced gives teachers the ability to plan and direct even more complex course tasks:
Collaborative working among students: Students are required to work in groups to complete assignments and are responsible for organizing their work independently and learning through their projects. With ILIAS, teachers can be informed about a group's progress.
Online Tutorials: For lectures that require high levels of revision and practice, lecturers often do not have the capacity to teach tutorials themselves. For this task, students can get support from a tutor online via ILIAS
Group Work: In courses created on ILIAS, there is the possibility to set up groups for students to work on a particular assignment. Within each group students can use all functions in the course's settings: chats, forums, material access, and notifications. Teachers can become members of these groups to track students' work progress, but it is not mandatory.
Wikis: A particularly suitable option if several authors want to work on a single document. They also provide the option of linking text sections with each other.
Depending on the assignment task, ILIAS offers a number of communication tools to choose from.
Web-conferences with Adobe Connect
Adobe Connect is the perfect medium if you are on a business trip and would still like to provide advice and answer questions.
The web-based conference system allows you to contact other participants anywhere in the world. By means of voiceover IP and a headset (headphones + microphone), it is possible to talk with students, colleagues, or research associates. Video calls are also an option if all participants have a webcam.
Adobe Connect offers the following functions:
Audio/video multipoint conferences
Shared whiteboard
Archive for PowerPoint presentations
Application and desktop sharing
Chat
Polling
Recording conferences
TH Köln has permission to use the German Research Network's Adobe Connect web-conference system
PINGO at Paderborn University
PINGO is an acronym for "Peer INstruction for very large GrOups" and is a web-based live-feedback system for teaching. Just as the audience wild card/lifeline allows the host of "Who Wants to be a Millionaire?" to engage the audience, PINGO allows lecturers to lift students out of their traditionally passive role and enables them to actively participate in lectures. During lectures with a high number of participants, students can use smartphones, tablets, or laptops to answer questions.
Recording lectures with Camtasia
If your lectures contain material that rarely changes and can be studied independently by students, lectures can be used for discussions and applying theoretical knowledge in practice.
Camtasia is a suitable tool for recording lectures on a computer. It also offers the possibility to edit recordings and produce a film that can be uploaded online.
The finished video can also be uploaded to an ILIAS-course as a mediacast.