Semester Trip to Berlin
CULTURE, 14/06/2019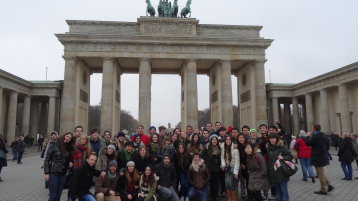 Our annual excursion is one of the semester highlights. We will travel to Berlin for four days: Bus trip, accommodation, breakfast and sightseeing included - Participation fee € 90
At a Glance
Semester Trip to Berlin
CULTURE
When?
14/06/2019 till 17/06/2019
07.30 till 18.00
Where?
Bus trip from Cologne to Berlin
Costs
Participation fee: 90 €
The participation fee includes the bus trip, boarding and breakfast as well as sight-seeing.
Please note that the registration is only binding with the payment of the participation fee.
Series of events
Registration
Registration starts on April 01, 2019 at 10:00 am in the Department of International Affairs
Event is available to TH Köln students only.


If you cannot participate in an event after all, please inform us at least 2 weeks in advance. After that, we will only be able to reimburse your participation fee if you submit a medical certificate!

Organized by
Department of International Affairs
The annual semester trip is one of the highlights of our programme of events. We travel by bus to Berlin for four days, probably the most exciting city in Germany. You will be accommodated in a youth hotel with shared rooms. A guided tour of the city awaits you to discover the most important sights.
In the evening we will see the show "Vivid Grand Show" at the famous Friedrichstadt-Palast.
A guided tour through the Sachsenhausen Memorial gives an insight on the history of the Sachsenhausen concentration camp, the Soviet special camp No. 7/Nr. 1 and the memorial site.
For an insight into the history of the divided Germany we will visit the Tränenpalast (the "palace of tears"), the former German-German border crossing at Friedrichstraße in Berlin.
Of course you will have enough time to explore the multicultural life of the city yourself, to see famous historical places, to relax at the river Spree, to shop at the flea markets, to enjoy the nightlife and, and, and...