Graduate Center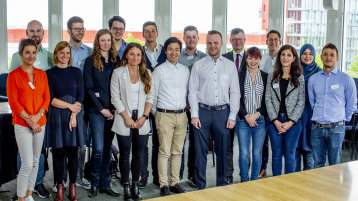 Graduate Center of TH Köln is the central contact point for everyone interested in or already executing a doctoral project at TH Köln.
Whether you have organizational or interdisciplinary questions concerning the doctoral program, you will find the right contact persons at Graduate Center. In cooperation with the faculties, graduate schools and other institutions, the goal of Graduate Center of TH Köln is to improve the quality and framework of cooperative research projects. For its members, Graduate Center offers various services such as the yearly "Afternoon for Doctorates" or specific travel grants, to support the network in-between the community and guide the doctorates along their way. Additionally, doctoral researchers who conduct research at TH Köln are able to make use of TH Köln's infrastructure and services, including the library, IT services and student-ID card.
Structure
The university-wide doctoral convention supports the network in-between the university and reinforces group identity. The commission for promotion of young researchers additionally assists Graduate Center, providing expert input to secure proper quality management regarding doctoral procedures and advising with the development and constant change.
Guidelines for the good supervision of doctoral researchers
[only readable internally]
Transferable Skill Courses
Coaching
Graduate Center also offers diverse sessions and coachings in cooperation with the Language Center or Kompetenzwerkstatt to help doctorate researchers with developing individual qualifications and enhancing soft skills.
Mentoring
Mentoring during the whole process at TH Köln is one of the main keys for a successful doctorate. Because of that, we highly recommend to close with your supervisor one of our Supervision Agreements prepared by TH Köln, which regulates all rights and duties concerning doctoral researchers and their supervisors.
Guidelines for ensuring good scientific practice
These guidelines define the basic principles of the TH Köln to ensure good scientific practice and for handling accusations of scientific misconduct.
Requirements for becoming a doctoral researcher at TH Köln and to benefit from additional services, are either to be enrolled in a cooperative doctoral program at TH Köln and a university or an employment-relationship as a research assistant at TH Köln within the scope of a graduation. Thus, a Joint Supervision Agreement is an important document to ensure a highly qualified supervision of both TH Köln and the chosen university.