ProfiL²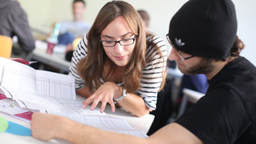 Through a project-based and consistently competence-oriented design of all undergraduate study programs, ProfiL² – Projects to inspire Teaching and Learning – establishes the structural requirements to implement a teaching culture that acknowledges educational diversity.
ProfiL² was funded by a joint program of the federal government and the federal states to improve teaching quality and study conditions until the end of 2016.
Projects as structural elements
Teaching concepts such as research-, problem-, and project-oriented learning are particularly suited to incorporate the diversity of students. These concepts are most likely to meet the requirements of "Education through Arts and Sciences".
New Concepts for Teaching and Learning
Numerous undergraduate study programs have adopted a project-oriented approach in their curriculum to prepare students for their future professional life. Awakening students' curiosity and interest from the beginning on is an important element in stimulating a sustainable learning process. Problem- and research-based learning encourages students to gain knowledge through their own efforts, which they can subsequently use to develop subject specific learning and working strategies. Teachers, mentors, and tutors offer students advice that is well-integrated into their daily life at university in order to improve and supervise students' learning processes.
ProfiL² project database
Please follow this link to access the project database!
New structures for semesters
The "week of projects" constitutes one of the program's most important components. Students work on a subject-oriented assignment during the first semester and thereby gain insight into the content and application fields of their subject. Through an interdisciplinary project carried out over the course of the fourth or fifth semester, students build on their expertise to develop solutions for complex project assignments that require them to work across disciplines. The week of projects allows for a new structure in study programs: Before and after the week of projects, modules can be "blocked", that is, taught in sequence over a longer period. This structure enables a concentrated and more intense analysis of the course content.
PROFIL² PROJECT WEEK

| | |
| --- | --- |
| Wintersemester 2016/2017 | 21.11.–25.11.2016 |
| Sommersemester 2017 | 15.05.–19.5.2017 |
| Wintersemester 2017/2018 | 27.11.–1.12.2017 |
| Sommersemester 2018 | 14.05.–18.5.2018 |
| Wintersemester 2018/2019 | 19.11.–23.11.2018 |