Online consultation hours for refugees
Zoom Consultation Hours, 27/06/2023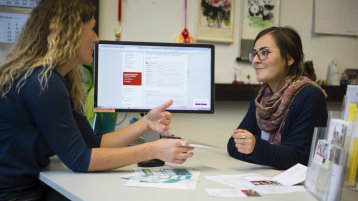 You have taken refuge in Germany and would like to study at TH Köln or improve your German language skills before studying? We can provide you with information on the necessary requirements and the application process. We will be happy to advise you!
At a Glance
Online consultation hours for refugees
Zoom Consultation Hours
When?
27/06/2023
14:00 to 16:00
add to my calendar

BEGIN:VCALENDAR VERSION:2.0 PRODID:-//hacksw/handcal//NONSGML v1.0//EN CALSCALE:GREGORIAN BEGIN:VEVENT LOCATION:Online via Zoom (Meeting ID: 859 9685 2136) with the password 886485 under the following link: DESCRIPTION: SUMMARY:Online consultation hours for refugees DTSTART:20230627T140000 DTEND:20230627T160000 DTSTAMP:20230610T031256 UID:6483ce1876a69 END:VEVENT END:VCALENDAR
Registration
No registration necessary. The personal consultation takes place without an appointment.
Organized by
Team International Degree-Seeking Students
Department of International Affairs