Visa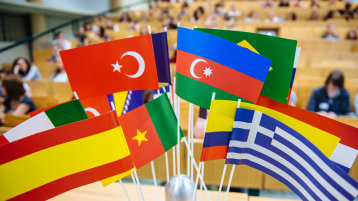 Many international students need to obtain a visa before coming to Germany. Make sure to inform yourself in time whether you need a visa and – if you do – what type of visa you require and where you can obtain it.
Information
The German Academic Exchange Service (DAAD) provides detailed information about the entry and residence in Germany:
Do I need a visa?
Whether you are required to be in possession of a visa prior to entering Germany, and which type of visa you need, depends on
your citizenship
the duration of your stay
the reason of your stay
EU-citizens
Citizens of European Union member states as well as citizens of Iceland, Liechtenstein, Norway and Switzerland may come to Germany without a visa. You are solely required to have a valid official ID card or passport. As soon as you have found a permanent place of residence, please register your residence with the residents' registration office responsible for you.

Non-EU citizens
Citizens of non-European Union member states are required to obtain a visa in order to enter Germany. Please apply for a visa at the German embassy or German consulate in your home country. If you intend to enroll in a degree program at TH Köln, you will need to apply for a student visa (Visum zu Studienzwecken). If you are a student of Cologne Prep Class or participate in a DSH preparatory class, please apply for a student application visa (Visum zur Studienvorbereitung).

Exemptions for certain countries
Citizens of Andorra, Australia, Brazil, El Salvador, Honduras, Israel, Japan, Canada, Monaco, New Zealand, San Marino, South Korea and the U.S. are allowed to enter Germany without a visa for a stay of fewer than 90 days. They are required to request a residence permit for Germany within this period of time.

Staying for less than 90 days?
Should you intend to stay in Germany for fewer than 90 days – for instance for an on-site seminar, summer school or short internship – only citizens of countries with a visa requirement need to obtain a Schengen Visa.
Please note:
If you enter Germany without a visa or with a Schengen Visa, you are required to leave the country after 90 days. As a rule, Schengen Visa for short-term stays cannot be converted into a student visa.
Where do I apply for a visa?
You apply for a visa at a German embassy or a German consulate in your home country. The website of the German Federal Foreign Office lists all contact details of the embassy or consulate responsible for you. It also provides information on applying for a visa and on the documents to be submitted.
Federal Foreign Office

When can I apply for a visa?
You may apply for your student visa as soon as you have received an admission letter from TH Köln.

Please note:
It may take several weeks or months before you are issued a visa. We therefore recommend you apply for a visa as soon as possible.

TH Köln is unfortunately not able to influence or expedite visa issuance processes of embassies, consulates or immigration offices.

What to do after I enter Germany?
Upon arrival in Germany, you will have to request a student residence permit at the immigration office within the first three months of your stay.