How to Apply to Cologne Prep Class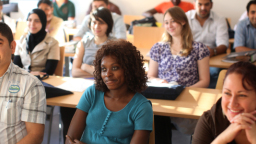 Cologne Prep Class is primarily designed for highly qualified international students whose secondary-school degrees do not qualify them for direct access to a Bachelor's program at a German university but would have to visit a Studienkolleg instead.
Please submit the following documents with your application:
two passport-size photos
copy of your passport (only the pages with your picture and personal information)
résumé in tabular form
certified copy of an official German language certificate. The required minimum is the level B1 (Common European Framework of Languages). The certificate must be no older than two years. A certificate of participation in a German language course is not sufficient. In case you already hold a higher level certificate, please submit it.
certified copy of your secondary-school certificate and, if applicable, a university entrance exam certificate of your home country (in original language and translation, both certified)
certified university transcript of records from your home country, if applicable (in original language and translation, both certified)
Letter of Motivation in German language. Please only use this form!
To make your application more convincing, you may submit the following additional documents with your application:
proof of previous internships or practical experience, only if related to your desired study program
proof of English language proficiency, e.g. IELTS, TOEFL, etc.
Please note, proficiency in English at level A2 is expected but not formally required.
Important information on the translation and certification of documents
All certificates must be submitted as certified copies. Please refer to the information guide in the download box for all vital information on the certification of your documents.
All documents not issued in the English language must be translated into German by a sworn translator.
Apart from certified copies of the translations, you are required to submit certified copies of the documents in their original language as well.
Please note that we can only consider complete applications submitted prior to the end of the application deadline.
We receive many applications for a limited number of places. Please note, therefore, that your application will be subject to a selection procedure and that your application should therefore be as meaningful as possible.
Information on the certification of documents
Authorities permitted to bear an official seal may certify copies of your original documents. These authorities include city halls, embassies, notaries and churches organized as corporations under public law. Lawyers, health insurance companies and translators are not permitted to do so. Translators may only certify copies of translations they prepared themselves.
Scholarship
The International Office of TH Köln awards tuition-fee scholarship to selected students of Cologne Prep Class. The primary objective of this scholarship is to enable highly qualified and motivated applicants the free-of-charge participation in Cologne Prep Class.
If you would like to participate in the selection process for the tuition fee waiver, please apply for a letter of recommendation from a teacher, professor or lecturer at your school, university or language course. The person should have taught you for at least one month. Please note that the person must send the completed and signed form directly to the International Office.
Scholarship for refugees
The International Office awards course fee waiver scholarships for refugees paid for by funds from the Federal Ministry of Education and Research, provided by the German Academic Exchange Service (DAAD). In case you want to take part in the selection process for the course fee waiver scholarship, please apply by April 1 with the documents listed above including a letter of recommendation. Additionally, please provide proof of your refugee status by handing in a copy of the respective document from the Federal Office for Migration and Refugees.
Please note that a scholarship and a place in the Cologne Prep Class cannot be guaranteed.