German Course for Refugees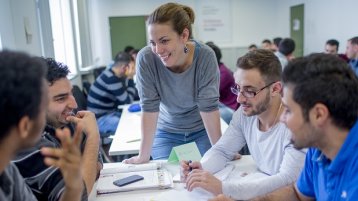 Intensive Course German as a foreign language
- Extended application deadline for the winter semester 2018/19: July 27, 2018! -
Participants
The intensive course has been designed for refugees who want to study at a German university and whose secondary school leaving certificate is recognized as Higher Education Entrance Qualification (Hochschulzugangsberechtigung – HZB) in Germany.
Course Description
In the intensive course "German as a foreign language", refugees eligible to study in Germany will develop university-specific language skills which will enable them to efficiently prepare for a degree program at a German university.
Participants will complete three language levels (B1.1, B1.2, B2.1) within four to five months. Classroom teaching will be supplemented by language-learning counselling and self-study components including digitally assisted language learning.
After successful completion of the intensive course, participants may be admitted to the
DSH preparation course [GERMAN].
Course Dates
summer semester 2018: April 9 - August 6, 2018
(daily classes, 24 hours of instruction per week)
winter semester 2018/19: dates to be announced
Admission Requirements
1. Higher Education Entrance Qualification (Hochschulzugangsberechtigung – HZB) recognized in Germany
2. Residence Status:
Persons with a BÜMA/Ankunftsnachweis proof of arrival (asylum application registration prior to submission of the application under §63a AsylG)
Asylum seekers (ongoing procedure – Aufenthaltsgestattung temporary residency permit under §55 AsylG)
Tolerated persons (temporary suspension of deportation – tolerated stay under §60a AufenthG)
Persons entitled to asylum under Art. 16a GG/1951 Refugee Convention (residency under §25 para. 1 AufenthG)
Recognised refugees under §3 AsylG (residency under §25 para. 2 sentence 1/1. AufenthG)
Persons entitled to subsidiary protection under §4 AsylG (residency under §25 para. 2 sentence 1/2. AufenthG)
Persons with protection against deportation under §60 para. 5 and 7 AufenthG (residency under §25 para.3 AufenthG)
Persons with residency status under §22 sentences 1 and 2, §23 para. 1, 2 and 4, §24 and §25 para. 5 AufenthG
Relatives (parents, children, spouses) of recognised refugees they followed, refugees under the 1951 Refugee Convention and persons entitled to subsidiary protection may have access to the free procedure if they can provide the residency permit of the principal person entitled (the first relative to enter the country) under §29 para. 2, §30, §31, §32, §34 para. 1 and 2 and §36 AufenthG
Persons with a "fictional certificate" under §81 para. 3 and 4 AufenthG
3. German language level A2
4. Willingness to attend classes regularly
Fees
The course is funded by the Ministry of Innovation, Science and Research of the State of North Rhine-Westphalia, by the German Federal Ministry of Education and Research (BMBF) and by TH Köln.
Application Process and Deadlines
The application is submitted to uni-assist .
A German language level A2 is required for the application.
Application deadlines:
summer semester: January 2*
winter semester: July 1*
*If the deadline expires on a Sunday or a public holiday, the date of expiry is effectively extended until the first following working day.
- Extended application deadline for the winter semester 2018/19: July 27, 2018! -
Applications received after this date will not be accepted. Please apply in time with all the relevant documents.
Click here for information on how to submit your application.
Further dates for the Admission and Enrollment Procedure
After submitting your application, you will receive an invitation to the information event, the placement test and the interview.
Dates for the summer semester 2018
Information Event: March 6, 2018
Placement Test: March 7, 2018
Interviews: March 12 - March 22, 2018
Dates for the winter semester 2018/19
Information Event: to be announced
Placement Test: to be announced
Interviews: to be announced
Admission
The maximum number of participants is 50. Submission of an application form does not guarantee a place in the course. Places will be assigned according to the following criteria:
Order in which applications are received
Evaluation of submitted documents by uni-assist, placement test and interview
Please note that all dates are subject to change.