Excursion Scholarships - Go out and explore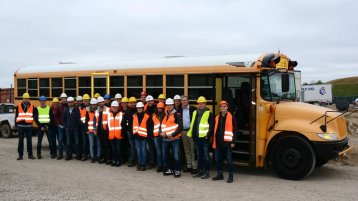 You would like to take part in an excursion as part of your study program and you are looking for a travel grant? Then find out more about the "Excursion Scholarships" program.
Deadline
Applications must be submitted in time and complete at least one month before the excursion begins, either by e-mail or by post.
The special internationalization program offered by university governance gives you the opportunity to apply for a travel grant for excursions within and outside of Europe.
As the total costs for excursions often include high travel expenses for students it is advisable to apply for an excursion scholarship. The travel grant is awarded individually, depending on the duration of stay and destination country. Your personal commitment to your special stay abroad is at the forefront of the selection process.
Below you will find just a few of the many interesting projects in which TH Köln students have already actively participated:
In Asia, multicultural teams are developing sustainable solutions to complex problems in the project "Die Stille der Elektromotoren" (The Silence of Electric Motors).
In the Amazon region, measuring techniques for the useful performance of rivers are being developed.
In a joint project with international partner universities from Europe and North and Central America, students are designing an innovation center for the 21st century.
In Cuba, a concept for the development of a tourist village on an apparently unsuitable area is being developed.
A travelling exhibition on a practical collaborative work is presented across several continents.
Within these projects, some students also make use of the opportunity to conduct field research on site, to visit innovative buildings or laboratories, to carry out field exercises or discourses in a socio-cultural environment. Through such projects and excursions, students can gain international experience during the semester and combine and apply the theory of study with practice.
In case your travel plans do not fit into this programme, e.g. participation in conferences, individual orientation visits to partner universities or the preparation of final theses abroad, please inform yourself about other funding opportunities.
Application Process
Please use the specified PDF forms for application and subsequent settlement of the excursion scholarship. Save the forms beforehand and fill them out on the computer.
Please also read the information sheet carefully, as it contains detailed information on the application documents, the selection procedure and the accounting process.
If you have any questions regarding the application or accounting for the excursion scholarship, please contact Mrs. Stephanie Witzoreck, working in the International Office. If you contact us by e-mail, please enter your name and destination in the subject line.