City of Cologne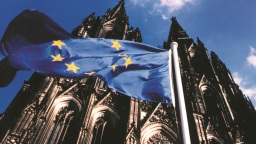 Its metropolitan vibe, diverse student scene and a cityscape abound with cultural and historical treasures make Cologne one of Europe's prime university cities.
Cologne's origins date back to the heyday of the Roman Empire more than 2,000 years ago. The former settlement of Colonia Claudia Ara Agrippinensium soon flourished into a major trading hub. Today, Cologne is Germany's fourth largest city with a population of slightly more than one million and has evolved as a main economic and cultural center at the heart of Europe.
Kölner Dom
The city's characteristic landmark and source of pride for every Colognian is without a doubt the magnificent Cologne Cathedral, locally known as the Kölner Dom. Towering over the quaint Old Town of Cologne at 156 meters, this masterpiece of Gothic architecture is the world's third-highest cathedral and boasts around six million visitors a year, making it Germany's most popular tourist attraction.
However, Cologne is by no means all about its Cathedral and has plenty more charms to offer: More than 40 world-famous museums, 120 art galleries, the Cologne Opera, a vibrant theater scene, a plethora of concerts and musicals as well as a city-wide passion for sports all testify to Cologne's reputation as an international art and cultural metropolis. Visitors from all over the world are bound to feel at home immediately, as Cologne is a true melting pot of cultures: Close to one-fifth of its inhabitants have an international background!
Cologne's economy is characterized by its amalgamation of different industries and trades. Home to the country's most influential television and radio stations, Cologne is unquestionably Germany's media capital and plays host to some of the continent's biggest trade fairs. Quite a few of the world's most renowned enterprises call the metropolitan region their home, in particular corporations operating in the automobile industry, biotechnology and life sciences, chemicals and pharmaceuticals as well as commerce and banking.