Applying as an Exchange Student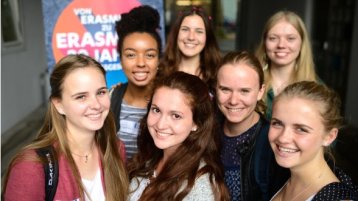 Do you intend to spend one or two semesters abroad at TH Köln as part of Erasmus+, a partner university exchange or organized on your own? If so, make sure to read all essential information on how to apply as an exchange student.
Incomings from Partner Universities
Your home university is one of our partner universities. After you have applied with your home university and been selected for an academic exchange at TH Köln for one or two semesters, your home university is required to nominate you as a future exchange student. Following your nomination, our International Office will email you further information about your stay at our university. Letters of admission for winter semesters will be sent by mid-June while those for summer semesters will be sent by mid-December.
Once you have been nominated, please follow the instructions stated in your personal email. Detailed information on the enrollment process for exchange students can be found under Admission and Enrollment for Exchange Students. It will also tell you which documents you will need to submit.
Partner universities
An academic stay abroad is always based on a co-operation between TH Köln and one of its partner universities. Our map gives you an overview of our partner universities and shows you which of our faculties cooperate with your home university.
Free Movers
The term Free Mover refers to exchange students who do not come to TH Köln from one of our partner universities or with Erasmus+. As a Free Mover, you will normally be enrolled for one or two semesters as an exchange student at our university. Being a free mover does, however, not allow you to pursue a Bachelor's or Master's degree at TH Köln.
Should you be interested in an academic stay at TH Köln as a Free Mover, please inform yourself in advance about our programs and make sure that you have sufficient knowledge of German for enrolling at a German university. We recommend that you have German skills on at least a B1 level to participate in courses whose language of instruction is German.
To apply, please get in touch with the International Office and send us electronic copies of the following application documents:
up-to-date résumé
up-to-date transcript of records
letter of motivation: Why would you like to study at TH Köln? What are your objectives?
a cover letter stating the desired period of your stay and the faculty you intend to enroll in
a list of courses you would like to take at TH Köln
proof of your German language proficiency on at least a B1 level in accordance with the Common European Framework of Reference for Languages
Once we have received all required documents from you, we will forward them to the faculty you indicated. The faculty will then decide whether to accept you as a Free Mover.