Handball: home game VfL Gummersbach
CULTURE, 09/05/2020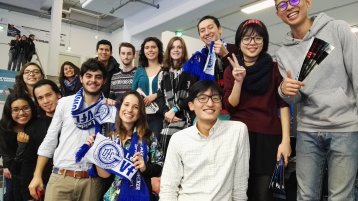 Home games of the VfL Gummersbach are a very special experience! The excitement of the game and the love of the fans for their club create a unique atmosphere in the arena. Be there when the VfL plays against HSG Konstanz.
At a Glance
Handball: home game VfL Gummersbach
CULTURE
Where?
Meeting point: foyer campus Gummersbach
Costs
Participation fee: 3 €
Please note that the registration is only binding with the payment of the participation fee.
Series of events
Registration
Sign up at the Department of International Affairs from Apr. 23rd to May 08th, 2020.
Event is available to TH Köln students only.


If you cannot participate in an event after all, please inform us at least 5 day in advance. After that, we will only be able to reimburse your participation fee if you submit a medical certificate!

Organized by
Department of International Affairs
The VfL Gummersbach currently plays in the 2nd Handball Bundesliga. We invite you to come along to the home game against HSG Konstanz on May 9, 2020. The match will take place at the Schwalbe Arena in Gummersbach.
Get ready for an exciting game!