City Rallye "City Games"
CULTURE, 12/05/2020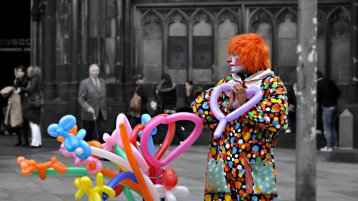 Discover Cologne, solve exciting questions and challenges and meet new people. All this and much more awaits you at the "City Games" city rallye.
At a Glance
City Rallye "City Games"
CULTURE
Where?
Meeting point: start and finish for the city rallye is the bar "Bliss", Friesenstraße 43.
Costs
Participation fee: 4 €
Please note that the registration is only binding with the payment of the participation fee.
Series of events
Registration
Sign up at the Department of International Affairs from Apr. 28th to May 12th, 2020.
Event is available to TH Köln students only.


If you cannot participate in an event after all, please inform us at least 5 day in advance. After that, we will only be able to reimburse your participation fee if you submit a medical certificate!

Organized by
Department of International Affairs
During the "City Games" city rallye, you and your international fellow students will get to know Cologne better and master exciting questions and challenges together. Start and finish of the City Rallye is the bar "Bliss" at Friesenstraße 43.
It will definitely be an unforgettable experience!