Advent, Advent: Christmas Party
CULTURE, 14/12/2017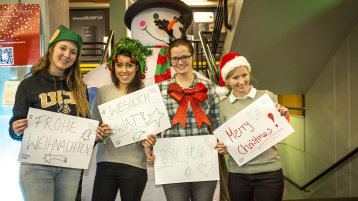 Ho-ho-ho…it's the season to be jolly! The International Office invites all international students to its Christmas Party
At a Glance
Advent, Advent: Christmas Party
CULTURE
Where?
Campus Deutz, Cafeteria Entrance
Registration
No sign required
Event is available to TH Köln international students only.


If you cannot participate in an event after all, please inform us at least 2 weeks in advance. After that, we will only be able to reimburse your participation fee if you submit a medical certificate!

Organized by
International Office
Ho-ho-ho…it's the season to be jolly! The International Office invites all international students to its Christmas Party. The party will take place mostly outdoors, so bring your mittens and scarfs. Who knows…maybe we'll even get some snow? Food and drinks will be provided!