Languages and Business (Bachelor's program)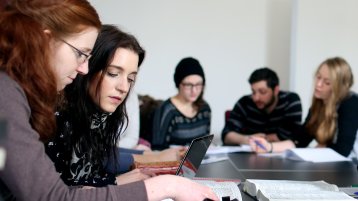 The Institute of Translation and Multilingual Communication offers this international four-year program in cooperation with universities in Belgium, Spain, France and Ireland. Students spend a total of two years abroad.
The program combines a fundamental education in business and economics (business in the context of cultures, institutions and communication) with extensive training in two modern languages.
At a Glance
| Category | Description |
| --- | --- |
| Program | Languages and Business |
| Degree | Bachelor of Arts (B.A.) |
| Type of program | Full-time program |
| Beginning of program | Winter semester |
| Program duration | 8 semesters |
| Credits | 240 ECTS |
| Language of instruction | German and English/French or Spanish/French or Spanish/English |
| Campus | Südstadt Campus |
| Restricted admission | Yes |
| Additional requirements | Program-related aptitude test |