Applied Information Science (Bachelor's program)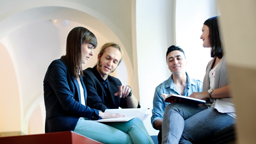 Information plays a pivotal role in today's information society. People and enterprises require information in order to make decisions. Providing the right information at the right time, in the right quality and at the right place is a crucial task.
It is, however, often very difficult to extract precisely the right information from the vast amount on offer. This is where information professionals and their expertise are needed.
Following joint foundation studies lasting four semesters, the study program offers two areas of specialization:
eBusiness
Market and Business Intelligence
The basis for both fields is sound skills in economics and advanced know-how in the area of IT, which are, however, not general but instead targeted at "Information" as a special asset. Further information on study contents can be found here.
At a Glance
| Category | Description |
| --- | --- |
| Program | Applied Information Science |
| Degree | Bachelor of Science (B.Sc.) |
| Type of program | Full-time program |
| Beginning of program | Winter semester |
| Program duration | 6 semesters |
| Language of instruction | German |
| Campus | Südstadt Campus |
| Restricted admission | Yes |